The LA Galaxy didn't think things could be worse than in last weekend's loss at Columbus, the team's most one-sided defeat in nearly 15 months. Then they played the first half Wednesday night.
Giddy Galaxy examine what went wrong before things went right
08/21/2014
The LA Galaxy didn't think things could be worse than in last weekend's loss at Columbus, the team's most one-sided defeat in nearly 15 months. Then they played the first half Wednesday night.
It took a scathing halftime tongue-lashing from Bruce Arena to turn things right, and the Galaxy responded by overcoming a two-goal halftime advantage and pulling out a stunning 4-3 triumph over the Colorado Rapids.
They're of course delighted with the outcome, but they don't want to put their poorest half of the season behind them so quickly. There are lessons to be learned.
The Rapids, like the Crew before them, arrived with far greater energy and urgency, dominating the first 45 minutes in Commerce City, Colo., en route to 2-0 and 3-1 leads. Arena was disgusted, let his charges know and they answered with a terrific second half.
Omar Gonzalez pulled LA (10-5-7) within one in the 55th minute, Alan Gordon scored his first Galaxy goal since 2010 in the 68th, and Landon Donovan, naturally, delivered the winner, finishing an 80th-minute through ball from Robbie Keane to snag all three points and pull to five points of the Western Conference lead.
"I think the second half was the defining moment in our season ...," Arena said afterward on the Galaxy's Time Warner Cable SportsNet telecast. "The guys showed a lot of character, played well on a night where, jeez, we were so sloppy in that first half."
Arena let them know at halftime with a blistering, profanity-laced tirade that his team took to heart.
"Bruce was just yelling at us, which sometimes you need," Gonzalez told reporters. "I'm happy he finally got into us, something we all needed, and a good kick in the butt is always good. The first half was just really poor from us, the start was very flat, and coming off the Columbus game when we all said we understood that it wasn't a good effort from us and that we would come out better, and then we come out the same way -- it's difficult to swallow."
Donovan was asked what Arena actually said.
"I don't think I can say what he said without being fined, but there were some choice words that we absolutely deserved to hear," he said. "After what happened Saturday and what happened in the first half, giving up seven goals in a game and a half is unacceptable for this team. So the first order of business was defensively, to do the job. We were embarrassed defensively, all of us, from the front to the back. We know we're good enough to always get chances, and we wanted to get the second goal."
They came out with better life to start the second half, shored up their porous defense and when Gonzalez headed home a Donovan free kick, they were on their way.
"Once [Gonzalez] got that goal," Keane said, "I think we knew that we had a good chance of getting back into the game, with the players that we have, and we certainly did that."
Gordon finished easily after Gonzalez nodded Marcelo Sarvas' cross into the goalmouth, and then, after Gordon won a ball near midfield and found Keane in space, he fed Donovan, who rounded Rapids goalkeeper Clint Irwin and fired into an open net.
"Landon dug deep," Arena said. "I haven't seen that kind of passion out of Landon in a game in a long time."
Said Donovan: "Anytime Robbie gets the ball like that with that kind of time," Donovan said, "I'm going to run as hard as I can, because I know he's going to put the ball in a good spot."
It was a terrific finish, but what came first still matters. The Galaxy have conceded the first goal in four straight matches. That they've gone 2-1-1 in those games doesn't absolve them.
"It's certainly something that we need to rectify," Keane said. "We can't be going into every game chasing from the first 15 minutes. It's always difficult to go behind, especially when you're playing away from home. ... But we showed character in the second half, and we can take certainly a lot of confidence from that, and, hopefully, that will stand us in good stead for the next couple of games.
"Hopefully, we've learned a lesson in the last few game, and make sure that doesn't happen again."
Arena had no answers when asked why.
"Who knows? If I knew that, I'd just write the book and retire and collect all the money," he said. "No one ever knows. These things are never easy. Athletes are funny people, and sometimes they respond, sometimes they don't. ... Sometimes there's odd results, and sometimes teams come out flat for whatever reason, and tonight that was certainly the case with us. It was a tale of two halves."
It's something to work on.
"We're trying to figure [it] out," Gonzalez said. "We thought we had it after the Columbus game. We said we're going to come out very sharp here in Colorado, and again we fall flat on our faces and give up three goals. ... We have to be sharper in the beginning, find it within ourselves, demand more of our selves and just have each other's backs.
"I feel like in the first half it was everyone on their own -- in Columbus as well -- so we need to get together as a team. Before these past two games, we were the best defense in the league, and then it just went out the window. We have to get back to starting out with a good defensive shape and just go from there."
04/30/2016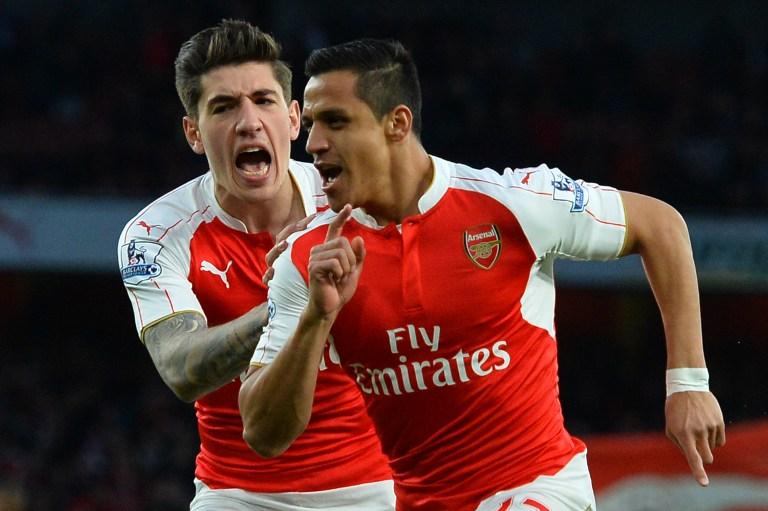 | | | | | | | |
| --- | --- | --- | --- | --- | --- | --- |
| | | | 6 | | | |
| | | | | | | |
| --- | --- | --- | --- | --- | --- | --- |
| | | | 3 | | | |
04/26/2016