Once again this season Serie A contains a plethora of exciting players and teams. Serie A isn't the defensive league it is often portrayed as. With a few days until the new Serie A season kicks off, here are ten players to watch for 2014/15.
Serie A: Ten players to know in 2014/15
08/27/2014
In the 1990s, Serie A was the "it" league in world football. During that time, Serie A was regularly shown in the UK on Channel 4 and boasted names like Marco van Basten, Frank Rijkaard, Roberto Mancini and Paul Gascoigne, to name a few. However, due to financial problems within Italy and the worldwide expansion of the English Premier League, Serie A fell from grace; and when Calciopoli erupted in 2006, the league's image was damaged severely.
Serie A hasn't been helped by its clubs either, as many teams have been criticized for not taking the Europa League, or its predecessor the UEFA Cup, seriously. Thus causing the league's coefficient, in regards to the Champions League, to be poor. This resulted in Serie A's original four Champions League spots being reduced to three. Not having a club in a European final since Inter won the treble in 2010 has hurt the league considerably. At the end of last season, Serie A was ranked as the fifth best league by UEFA behind Spain's La Liga, the English Premier League, the German Bundesliga and Portugal's Primeira Liga.
Despite Serie A's financial troubles, past problems with match-fixing and poor showing in European competition, it has been a breeding ground for talent over the last five years. Just look at big spending Paris Saint-Germain to see Serie A's impact on the French top-flight: ten of PSG's players last season played, with several cutting their teeth, in Serie A (or Serie B in Marco Verratti's case) before moving to France.
Once again this season Serie A contains a plethora of exciting players and teams. Serie A isn't the defensive league it is often portrayed as. With a few days until the new Serie A season kicks off, here are ten players to watch for 2014/15.
Juan Iturbe
Forward, Roma
Many felt Juan Iturbe was the best young player in all of Serie A last season. Roma agreed with that assessment and paid Hellas Verona $29 million for his services.
Iturbe was ready to sign for Juventus, yet changed at the eleventh hour thanks to Antonio Conte's departure from the club. The 21-year-old will bring a lot of excitement to Roma and should fit in brilliantly with the attacking, swashbuckling brand of football favored by Rudi Garcia.
With Roma so close yet so far from winning the Scudetto last term, Iturbe could be the missing link that leads them over the line in 2014/15.
Mattia Perin
GOALKEEPER, GENOA
The 2013/14 season was a break out year for Mattia Perin. The goalkeeper had played the previous season with Pescara in a truly miserable year which saw the team give up the most goals in Serie A and relegation.
The 21-year-old didn't get off to a great start with Genoa, however. The Italian international gave up seven goals, including a howler against Fiorentina, in Genoa's two opening fixtures. Despite some calls for him to be replaced, Genoa stuck with Perin and the shot-stopper become the difference between Genoa finishing mid-table and fighting relegation for a third straight season.
The Grifone was not blessed with many goalscorers a year ago and it was Perin that was the difference at the other end, showcasing his acrobatic style in preserving the scoreline in many of the club's matches. Linked to AC Milan this summer, Perin turned the Rossoneri down in order to continue the current project under Gian Piero Gasperini.
Expect him to leave next summer as he solidifies himself as the next Gianluigi Buffon.
Miralem Pjanic

MIDFIELDER, ROMA
Miralem Pjanic's six goals and six assists in 35 games for Roma in 2013/14 may not seem like much to some. However, the Bosnian was one of Roma's key players as the team finished runners-up in last season's Serie A.
In his third season with the Giallorossi Pjanic had his best output in terms of goals and assists, which led to rumors of a move to Barcelona. Luckily for Roma, Pjanic signed a contract extension last May and will stay at the Stadio Olimpico for a few more years unless another team can pry the attacking midfielder away via large transfer fee.
Pjanic's attacking play has few holes and the Bosnian is adapt at unlocking defenses and scoring spectacular goals. Earlier this summer, Pjanic scored from his own half against Manchester United during the club's pre-season tour of North America.
Pjanic's brilliance will be on display in this season's Champions League as the Giallorossi returns to Europe's premier cup competition. Meanwhile, with Juventus in a state of flux ahead of the new campaign, there could be Pjanic on the streets of Rome if the Bosnian can help steer the club to its first Scudetto in 14 years.
Antonio Candreva
MIDFIELDER, LAZIO
Last summer's World Cup was Antonio Candreva's formal introduction for those that do not follow Serie A closely. Yet for those that do, it was just a reaffirmation of what was already known about the Lazio star.
Candreva tormented England in Italy's World Cup opener, and though he didn't finish the tournament as strongly (nor did Italy), it was still a good showing by the 27-year-old.
After years of loans and never living up to his full potential, everything clicked in January 2012 when Candreva joined Lazio from Cesena. Three goals in 17 matches was good enough for a second loan to the Biancocelesti as Candreva improved on his previous season stats (seven goals, 47 games).
Again last season Candreva improved, becoming Lazio's go-to-man once the club sold talisman Hernanes to Inter during the winter transfer window. That transfer allowed Candreva to become the true creator in Lazio's attack as he finished with six assists.
Like Pjanic, expect Candreva to once again best his previous season in 2014/15.
Giacomo Bonaventura
MIDFIELDER, ATALANTA
Giacomo Bonaventura plays for Atalanta, a team some may call unfashionable, which is the main reason many non-Serie A disciples may be unfamiliar with his name.
However, Bonaventura is a star in the making as he continues to ply his trade for the club that has brought him up since youth.
The 25-year-old has been solid for La Dea ever since the club returned to Serie A in 2011. Though scoring goals isn't his strongest attribute, Bonaventura added eight strikes as Atalanta finished eleventh a season ago.
Played mostly on the left wing, Bonaventura is at his best when he can run at defenders before cutting inside. Atalanta striker German Denis has benefited from the midfielder's play since his arrival at the club and the pair's ability to link up had many in the Curva Nord dreaming of Europa League football; though in the end, it wasn't to be.
Strangely, Bonaventura has rarely been linked with a move away from Bergamo. While other clubs continue to miss out on the playmaker, La Dea benefit from their folly.
Domenico Berardi
MIDFIELDER/FORWARD, SASSUOLO
At just 20 years of age, Domenico Berardi had one of the better seasons in Serie A last term as he helped tiny Sassuolo beat relegation in the team's first season following promotion. On loan from Juventus, Berardi tallied 16 goals and six assists for the Neroverdi.
On loan at Sassuolo again this season, even more will be expected of Berardi as the club attempt to solidify its place in Serie A.
While Berardi had a spectacular season last term, it can't be overlooked that his goals came in bunches rather than being spread over the season. Nine of Berardi's 16 were scored in three games and the young Italian went nine matches without scoring.
Sassuolo should be better this season than last, but the team will need Berardi to spread his scoring out and limit those long dry patches if 2014/15 is to end comfortably.
Paul Pogba
MIDFIELDER, JUVENTUS
When Juventus signed Paul Pogba from Manchester United in 2012, few batted an eye at the French youth international's departure after disputes over contracts and playing time. In the time since he left, Pogba has shown that United's willingness to let him leave rather than disrupt club wage structure may have been both foolish and short-sighted.
In 88 appearances for the Bianconeri, Pogba has solidified his stature as one of the best young players in the world. Pogba, Arturo Vidal and Andrea Pirlo make up one of the best central midfields in all of football. As a trio, Pogba and Vidal do the dirty work while Pirlo provides the elegance that is needed in the final third.
But Pogba isn't just a sidekick to Pirlo. The Frenchman is just as capable at making an incisive pass or shooting from distance as he is at tackling. The 21-year-old is still a little raw, but it won't be long until Pogba is considered the best in the world at his position.
Simone Scuffet
GOALKEEPER, UDINESE
Not only is 18-year-old Simone Scuffet another example of the great young talent in Serie A, but he is another illustration of the quality of players being scouted and produced by Udinese.
The club has already developed the likes of Alexis Sanchez, Gokhan Inler, Mehdi Benatia and Samir Handanovic; Scuffet is just another in a long line of players being churned out in Friuli.
Scuffet played just 16 times last season after usurping incumbent goalkeeper Zeljko Brkic for the starting position. Of course the youngster has a lot to learn, but Udinese is a perfect place to do so week after week. The club won't be expected to challenge for a top six spot, but as always, Udinese will give it a go.
New coach Andrea Stramaccioni was lauded for his work with youth at Inter and he will now be able to impart that wisdom on Scuffet. This season should be one of growth for the Italian whether that is on the pitch or in panchina.
Matteo Darmian
FULL-BACK, TORINO
Matteo Darmian was a shock selection by Cesare Prandelli at the summer's World Cup in Brazil.
Despite being a surprise, Darmian proved to be an excellent choice in Italy's tournament opener against England. His performances at the World Cup were the crowning achievement to a stellar season in which Torino finished seventh and qualified for the Europa League.
Capable of playing on either side, Darmian is a full-back who isn't afraid to get stuck in to tackles. At the same time, the Italian has no qualms about bursting forward and joining an attack. Since his arrival at Torino in 2011, he has helped the club rise from Serie B to the upper upper of the Serie A table.
This season the full-back will be expected to repeat his performance from last term at the very least as Torino looks to break the top six.
Juan Cuadrado
WINGER/WING-BACK, FIORENTINA
Juan Cuadrado's "will he or won't he" transfer saga has grown tiresome. However, as of now it looks like the Colombian will be with Fiorentina - though that could still change up until August 31.
Cuadrado is another product of Udinese, though he only played 20 times for the club before going on loan first to Lecce and then to Fiorentina. It is with the Viola that Cuadrado has emerged as one of the most exciting players in the league.
Attacking is Cuadrado's forte and the wide man is best in one-on-one situations with a defender. In addition to his attacking presence, Cuadrado doesn't shy away from defensive duties and isn't afraid to make a tackle when needed. In 43 matches last season, Cuadrado tallied 15 goals and eight assists.
If he stays with Fiorentina, those stats should be even better with a health Giuseppe Rossi and Mario Gomez on the end of his passes. If he doesn't stay with the Viola, expect Cuadrado to continue to carve out his niche as a rising wide player elsewhere.
04/30/2016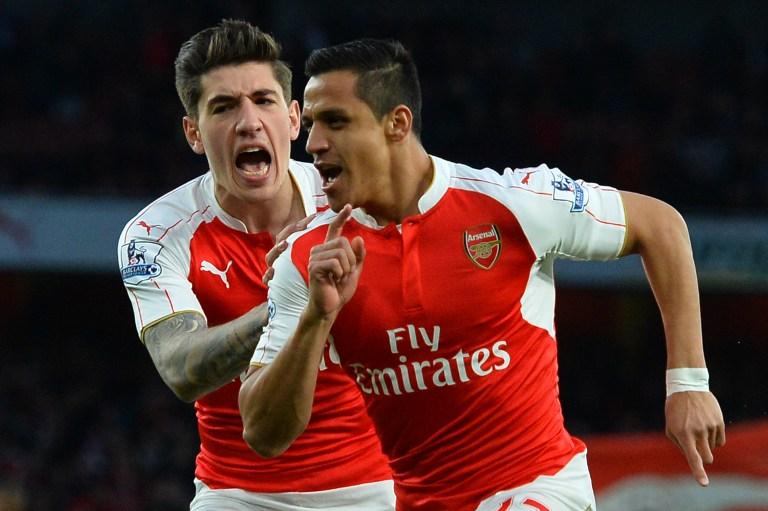 | | | | | | | |
| --- | --- | --- | --- | --- | --- | --- |
| | | | 6 | | | |
| | | | | | | |
| --- | --- | --- | --- | --- | --- | --- |
| | | | 3 | | | |
04/26/2016