Before we once again get lost in the lunacy that is preseason, it's worth having a look back at the top five mementos of the 2014 World Cup.
Five World Cup mementos
07/15/2014
Before we once again get lost in the lunacy that is preseason, it's worth having a look back at the top five mementos of the 2014 World Cup.
The Golden Ball Charade
Lionel Messi won the Golden Ball.
Let's not pretend we didn't see it coming. Messi won the Golden Ball as soon as Argentina booked its place at the World Cup. Despite taking place in Brazil, this World Cup was always tipped as Messi's tournament – the last obstacle La Pulga would have to overcome in order to finally be regarded as the best player of all time.
The ingredients were all there. Argentina boasted an envious attacking line, a more than adequate midfield, and no longer suffered from a porous defense. Additionally, Messi's below par season – by his astronomical standards, of course – had given rise to some (silly) suggestions that the Argentine was saving himself for the tournament.
And yet, when that first whistle was blown and Argentina kicked off against Bosnia Herzegovina, the Messi everyone expected to see was nowhere to be found. Sure, there were moments of brilliance - namely his fabulous strike in the final seconds of a lackluster Albiceleste performance against a well-organized Iranian team - but for the most part, Messi looked disinterested and light years from the player that racked up four Ballons d'Or in a row.
So how is it that he still managed to beat out the likes of Arjen Robben, James Rodriguez, Toni Kroos, and Manuel Neuer when he wasn't even Argentina's best player? (Javier Mascherano surely deserves that accolade.)
"pundits have long been worshipping at the altar of Messi"
Perhaps it is the simple fact that football pundits have long been (understandably) worshipping at the altar of Messi, and have become incapable of fairly evaluating his displays. Some of those pundits are now questioning FIFA's decision, completely oblivious of the fact that they bear some of the responsibility given their hyperbolic descriptions of even his simplest moves.
It could also be the fact that Messi happens to be the Adidas poster boy, which curiously happens to be the company after which the trophy is named. Now, I'm not at all suggesting that FIFA and Adidas were in cahoots with each other. After all, FIFA has always proved an honest association, free from outside influences and interests.
World Meets James Rodriguez
While on the subject of the Golden Ball, I would be remiss if I didn´t mention James Rodriguez' incredible World Cup.
The tournament's Golden Boot was almost everyone's pick for Golden Ball winner. James was so good that even the local fauna wanted a piece of him. You have to give it to the kid. Few would remain calm slotting a penalty kick versus the host nation in a massive game, and appear unperturbed by a freakishly big grasshopper, all within a matter of seconds.
"I'll always think back to the way Fernandinho humped the Colombian all over the pitch "
Of course, most will remember James' World Cup for his majestic goal against Uruguay, but I'll always think back to the way Fernandinho humped the Colombian all over the pitch for the better part of ninety minutes without so much as receiving a caution (more on that a little later).
Big time players have a knack for producing in big occasions, and it would behoove me to remind everyone that the twenty-three year old was already a big time player before the Word Cup, plying his trade for AS Monaco after moving from FC Porto for around seventy million dollars. Still, his stellar performances in Brazil may mean that the Principality may be too provincial a place for his talent, and a move may be in order.
All the big boys are calling but a future in Madrid may be in the cards, with Los Blancos desperate to match Barcelona's newest Uruguayan acquisition. If that is the case, American audiences will be treated to many more magical moments from the Colombian.
A Goalkeeper's World Cup
I've been obsessed with football for as long as I can remember and never has there been a time when I've witnessed so many people rooting for the goalkeepers (that is, of course, unless your team is playing).
That, however, is exactly what happened in this World Cup. Neutral fans extolled save after save, especially when they protected underdog nets.
While FIFA calamitously – yes, I know, too strong a term - misfired in attributing the Golden Ball to Messi, the powers that be were dead right in awarding the Golden Glove to Manuel Neuer. As I wrote recently, the German keeper has redefined goalkeeping and is the symbol of the modern keeper. Long gone are the days when net-minders were hardly expected to have a good touch.
There were plenty of fantastic goalkeeping performances, but a few stand out.
"Tim Howard's sixteen saves against Belgium set a World Cup record, and shot the American to meteoric (US) stardom."
Tim Howard's sixteen saves against Belgium set a World Cup record, and shot the American to meteoric (US) stardom. Even President Obama wanted to talk to the Evertonian. Yes, Clint Dempsey was there, but we all know who the leader of the free world really wanted to talk to.
I almost missed Howard's historic match. I was checking in to my flight to Portugal and had resigned myself to missing the game, until my girlfriend cleverly suggested that we drive to a local Marriott Hotel (obviously, she's the one with the brains in this relationship - as well as the looks and personality). What we found was a group of Americans that had clearly never watched real football – you could tell by how angry they got at the slightest foul – screaming every time Howard parried a shot.
Memo Ochoa also became a bit of an unlikely hero. The Mexican was supposed to play second fiddle to Jose Jesus Corona, but a head injury landed the Cruz Azul man on the bench, leaving his understudy to wow everyone except FIFA (like Howard, Ochoa was not nominated for the Golden Glove).
The case could be made that many of Ochoa's saves happened as a result of the ball hitting him. It was as if the man had his own gravitational pull. But as fellow footy pundit, Juan Arango pointed out: being in the right position is just as important as making an acrobatic save.
Acrobatic saves were aplenty with Keylor Navas and Claudio Bravo minding the nets for Costa Rica and Chile, respectively. The Costa Rican would have been a worthy Golden Glove winner had the Ticos gotten past the Dutch, and Bravo more than earned his move to Barcelona.
"While I believe vampiric attacks have no place in football, I can't help but feel that the game has seen far worse behavior."
The Bite Heard Around the World
Luis Suarez is banned from all football related activities for four months, with an additional nine game suspension from international duty. For some, FIFA didn't punish the Uruguayan's dietary habit harshly enough.
I'm on the fence.
While I believe vampiric attacks have no place in football, I can't help but feel that the game has seen far worse behavior. Roy Keane's vicious tackle on Alf-Inge Haland in 2001 ended the Norwegian's career, and his punishment was far less severe. And then there was Pepe's rampage in 2009. The Portuguese was banned only ten games for his attacks on Getafe's Javi Casquero and Juan Albin. You would think he learned his lesson.
Maybe we judge biting more harshly because it's an unnatural action in the game, unlike kicking. Is it any more barbaric, though?
Still, if biting someone – including an unsavory character such as Giorgio Chiellini – earns one a multimillion dollar move to Barcelona, I think we all ought to give biting a try. What's a little ban when there's a life of luxury to be lived in one of Europe's most incredible cities?
Unbelievably, someone figured out that you're more likely to be bitten by Luis Suarez than being shot in the United States. Crazy, I know.
Refereeing Debacles
Had Yuichi Nishimura not made the disastrous decision to award Brazil a penalty in the host nation's opening game against Croatia, we might have had a very different World Cup.
Instead of finishing top of their group, the Brazilians might have squeaked through in second place, facing Holland instead Mexico, and perhaps sparing them of the humiliation they suffered at the hands of Germany.
In all honesty, the 7-1 drubbing did a lot to alleviate the pain I felt after Portugal's loss to Die Mannschaft.
Nishimura's awful display was the first of many dubious refereeing performances. However, none were as appalling as Carlos Velasco Carballo's handling of Brazil – Colombia, one of the tournament's most eagerly awaited games, pitting Neymar against James Rodriguez.
Like Nishimura, calling a game involving the host nation was too much for the Spaniard, who quickly lost control of the match when he forgot where his pocket was.
Surprisingly, the game didn't devolve into a bloodbath like the one witnessed in 2006 between Holland and Portugal, but irreparable damage was done to Brazil, when Juan Zuniga attempted to mount Neymar, ending the latter's World Cup.
Zuniga's dangerous tackle would never have happened had Carballo punished the Brazilians for their physical play. As I mentioned before, it appeared as if Fernandinho's only task was to maim James Rodriguez with impunity. Ironically, it was the Colombian who saw a yellow card for a rather innocuous tackle, which ultimately resulted in David Luiz' top corner screamer.
Referees will always make mistakes. That, unfortunately, is a byproduct of being human. What is unforgivable is that FIFA hasn't come up with a way to mitigate human error.
I would venture to call myself an expert in the game, but I'm still at a loss as to what the fourth official does for most of the match. Is it implausible to think that he could have a little more influence in the game, and maybe even be allowed to replace the referee if he is having an off day?
Unfortunately, given the eternity it took for Blatter and Co. to finally agree to use goal-line technology, I'll take a giant leap and assume that it will take another World Cup littered with errors for any more advancement to be made in the name of real fair play.
04/30/2016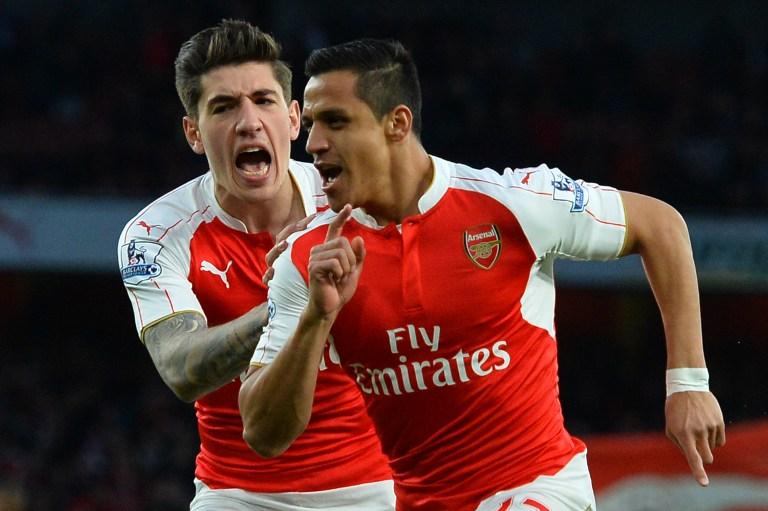 | | | | | | | |
| --- | --- | --- | --- | --- | --- | --- |
| | | | 6 | | | |
| | | | | | | |
| --- | --- | --- | --- | --- | --- | --- |
| | | | 3 | | | |
04/26/2016