The film, "Muerte O Gloria: The Rise of the American Soccer Fan" uncovers the history of the rise of the American soccer fan by looking at one of the oldest and proudest supporters groups in all of Major League Soccer, La Barra Brava of D.C. United. Two weeks ago, before D.C. United's match against the New York Red Bulls, I had the opportunity to speak with the film's director, Mr. Mark Yancey.
Exclusive Interview with Mark Yancey, Film Director of "Muerte o Gloria"
04/23/2014
The sights, sounds, and smells are unmistakable. The loud booming drums, the thousands of voices modifying classic tunes to besmirch the opponent, smoke bombs, giant tifo's of famous players and coaches are now an MLS tradition. There is nothing like being in a supporters section during a soccer match. There are many here in the United States who go out every Saturday or Sunday and do their best to cheer on their squad. Supporter's culture has flourished here in the U.S. over the past few years, but there was a time when it simply did not exist.
The film, "Muerte O Gloria: The Rise of the American Soccer Fan" uncovers the history of the rise of the American soccer fan by looking at one of the oldest and proudest supporters groups in all of Major League Soccer, La Barra Brava of D.C. United. Two weeks ago, before D.C. United's match against the New York Red Bulls, I had the opportunity to speak with the film's director, Mr. Mark Yancey. Mark is also already in pre-production on another film with Resulting Impact, the same production company that is producing, "Muerte O Gloria."
The trailer can be found below:
Below is a transcript of our interview where we discussed his ties to the team and U.S. Soccer, the role of the supporter in developing this game here in the United States, and some of the characters and events that make up the rich history of D.C. United and the Barra Brava.
Sean Maslin: So what made you decide to do a documentary about the American Soccer fan and D.C. United supporters, in general?
Mark Yancey: Well, I have always been into soccer. Growing up in Southern California, the Mexican League was always a big influence and I grew up playing AYSO [American Youth Soccer Organization] so I have always had that connection to soccer. As I got older I got introduced to MLS and it was just by chance that D.C. United was the first team that I saw. After that, I was in the section right behind the Barra Brava and literally within fifteen minutes of the game starting I was more entranced by what the Barra was doing than what was actually happening on the pitch and it was just ever since it was you know what I need to tell their story in some way.
Throughout the years, I have always brought it up to friends saying "Hey this is a project that I want to do one day." But it wasn't until I met Matthew Melin, who runs Resulting Impact Film Productions, and Brittany Pope, who helped me produce the project, where they actually got behind me and were like "You know what? We see you have the passion for this so let's go make it." Like I said it is a story that really hasn't been told yet, but it is a really interesting story because just in the past ten years soccer has really pushed itself into the mainstream in America.
Maslin: It is definitely something that has changed in the past ten years. I am attended D.C. United's first ever home game and, from a personal personal perspective, it is a much different league than it was ten years ago and definitely twenty years ago.
So just to give the fans a little bit of background here, when was this documentary filmed?
Yancey: It was filmed starting in March of last year with the first game of the season and ended with the last match of the season and it is kind of throughout the year. We made three total trips to the East Coast, not only to D.C. but also Philadelphia and New York and few other games on the East Coast. We also went to Seattle and Portland to film a few other games up there. So I would it say it has been about a year to eighteen months where we have been going from pre-production to finishing. We are 90 percent done with the film and are hoping to have a final cut done by the end of this month actually.
Maslin: I think there has been a lot of positive buzz about it here on the East Coast.
So one of the things I was curious about is just how receptive the team and the league have been towards these ideas and your story? Did you all encounter any stumbling blocks along the way? Obviously some of the supporters are very happy to talk to outsiders, but Barra Brava and supporters groups are very protective. So I was just wondering how easy or difficult it was for the various "players" (the league, players, supporters) to talk about this story?
Yancey: The thing that was nice was that some of the guys on the crew and I are a little bit younger and we had never dealt with any kind of major sports league before. That lent us a certain level of naivety that ended up working in our favor. We did not get too many heads turned from the league in the beginning during our first trip because our first trip was focused on going out there, shooting enough to cut a trailer, in order to get the rest of our funding, and to get people just kind of aware of the project.
So at first there were really no stumbling blocks or anything because we were doing everything on such a small scale, very grassroots. But after that first trailer dropped, a lot of people in the league and D.C. United's front office started taking notice of what we were doing. We have had full support from all of the teams and stadiums that we have worked with. They have been very willing to give us press passes and everything and get us on the field because, we believe, they want this story to be told.
Now our last hurdle, you could say, what are working on now, is getting the official licensing from Major League Soccer for some of the archived footage that we need to use. But everything now is going really well actually. We have been in contact with Major League Soccer and they seem like they are on board with the project. Everything seems to be going really well.
But to refer to your other question, with the Barra Brava, I had been a member of the Barra Brava since 2007. Being on the West Coast, I was known as the "West Coast supporter" because I would do the trips to L.A., I would go to San Jose, I would do some games in Portland, and I would go to Salt Lake City. So I got really close with kind of that core group that did all of the traveling games; so I kind of had my foot in the door with some of the inner circle members. They all knew that I was going to film school and I had brought up the project with them a few times. So once I went to them with an official pitch and everything and showed them that "Hey, I do not want to make an amateur film. I really want to make a professional cinematic film out of this," and they were all on board. That is one thing: the Barra Brava members have gone above and beyond at helping me get contacts, helping me set interviews and helping me get access to DC front office people to get into the stadium and film. When we had last-minute problems or issues they were there to help get us to where we needed to be. So that is one thing: this film could not have been done without the extra help that the supporter groups have given us.
Maslin: One of the things that I always remember as a kid growing was that there seemed to be a clash of cultures between soccer supporters and the traditional American sports fan. Supporters seem to be more interested in singing and creating their own atmosphere, whereas American sports fans seem to rely more on piped-in music and team-orchestrated cheers.
Yancey: Well, it all started with Oscar Zambrano and he has very strong ties to Bolivia, where he is from, so he grew up with soccer being that main sport. When he came up here to the United States, the only thing that he knew how to do was to support teams the way he knew growing up in Bolivia. He wasn't really used to the American way of supporting teams. So when he found out that D.C. was going to have a soccer team, he wanted to bring all of that passion and that Latin American soccer fanatic style with him.
In the early years, there was a very strong Latin American influence before a lot of the American supporters started to catch on because like you said, Americans were used to going to baseball games and doing claps at the end of songs and never a full ninety minutes of chanting. But as people started to see what they were doing and kind of not knowing what it was but they were attracted to it for that same kind of reason. They were like "I have to go see what that is," and once they got into that section and saw what it was they realized there is no other way to go to a sporting event unless you are supporting like this. That is where you have even seen Barra members going to Washington Capital games and supported the way they know how to support.
I think it is something that if it were brought into more American sports you might see attendances rise because it brings that atmosphere. I feel like it brings you in more with the team. You're not just watching the team, I guess you feel like you are helping the team progress in a sense if you want to put it into those terms.
Maslin: I had the chance to look at one of your trailers for the film and the one thing that stuck out to me was how much it would mean to get a new stadium for D.C. United. In your conversations with the supporters, is this one of their major concerns going forward?
Yancey: It is just because everyone is getting to that mindset where if we do not get a stadium soon then the team might not be around for that much longer just because of the prices for D.C., RFK [Stadium,] and things like that. But at the same time, a lot of the supporters are kind of taking everything that they are handed with a grain of salt just because we have gone through so many deals that have fallen through at the last moment. Everyone seems to be more optimistic this time around, but until ground gets broken up on the new stadium they are not going to get all of their hopes up. But definitely I think that the stadium deal is one of the biggest things on a D.C. supporter's minds at this point.
Maslin: What are some of the best stories that you have heard while interviewing supporters and also players for this documentary?
Yancey: [Laughs] There were a lot of things that we had to turn the cameras off for because they were off the record. Nothing bad, just good times getting out of hand.
I would say some of the best stories that I heard were about the Houston Dynamo stories where they had the monsoon weather. I had supporters tell me that after they had called the game there was lightning and everything hitting near the stadium and they wanted everyone to leave and head up towards the concourse area. There is that one famous shot where the entire stadium is empty but 135 [the section where Barra Brava stand during matches] is full. Just talking to supporters that night that even though there wasn't soccer playing it was just a big party. Everyone was still chanting, everyone was still jumping and running around, and there was even a few supporters who had jumped the fence surrounding the pitch and had slid on the field like it was a slip and slide. Even Dave Johnson [commentator for D.C. United] when we interviewed him said that was one of his favorite moments while covering a match.
Maslin: What are some of the most interesting supporters that you got to meet or learn about? I would imagine Mr. Zambrano would be at the top of the list.
Yancey: Yeah just because the insight that he was giving us, the behind-the scenes, was amazing. One of the things that many people do not know is that Oscar after every match takes every flag and goes to a Laundromat and washes them. So he provided a lot of the behind-the –scenes information that the regular fan does not get to see.
Other than him there was another supporter, Pauly, who is actually a pretty close friend of mine but is known as one of the wild ones of the group. He always goes off and kind of wants to make it known that the Barra is the best so he is one of the most loud and passionate supporters. He is one of the main traveling supporters and goes to all of the away games. So hearing some of his stories and the shenanigans that he has gotten are interesting because I think he has been going to away games since 2009 and a member of Barra Brava since 1998. So I think he was one of the most interesting people to talk to.
Maslin: Having been to many matches myself I can definitely say he is one of the easiest people to identify when you are on the stands but he seems like a fantastic individual.
Yancey: If you are watching the games on T.V. and they cut to the Barra pits and you see that guy in the board shorts you know okay that's Pauly because every match he has a different pair of board shorts.
Maslin: So as you know, we are doing this interview on the weekend of the first match of the Atlantic Cup/I-95 Derby between D.C. United and the New York Red Bulls. I was wondering just what your thoughts are on using rivalries as a means of getting supporters. In your experience with the supporters, do you think that this is a rivalry that supporters are interested in?
Yancey: Oh definitely. I think that rivalries definitely bring something to this league that even though in baseball you have the New York Yankees- Boston Red Sox rivalry and in football you have the [San Diego] Chargers and the [Oakland] Raiders but I still think rivalries in soccer are something different. Usually it is because of the close proximity. Even though there is a 400 mile difference between New York and D.C., and it might not sell as many tickets as Seattle and Portland I still think that this game goes back and really shows the roots of MLS. If you talk to the supporters, this is still the biggest rivalry and the best.
The players that I have talked to and the fans that I have talked to, say this is the biggest game of the season. Whenever New York plays D.C. that is when everyone comes out in full force. No matter what we are pushing for in the season, whether we are pushing for the playoffs or in last place, when New York comes to town you know we will bring our A-game. I do not think that we would have the rivalries like Seattle-Portland unless the foundation was laid by New York and D.C.
Maslin: So with the league bringing in teams like Montreal, Seattle, Vancouver, and now Orlando City do you think that the league now understands how important it is to have that foundation of supporters to build off of?
Yancey: Definitely. In my mind, you can have an owner who has a ton of money, brings a stadium to a city, and brings a good team in but if you are not going to have the people in the stands that are going to be supporting that team for ninety minutes, whether that team is winning or losing, that team is not going to succeed. You look at teams around the world, every big team in Europe usually has the best supporter groups to go along with them.
I feel like in this sport it is different from others in that I feel like a team is to succeed then you need to have a supporter's group that is succeeding as well. It is just because it is that whole idea of the 12th man and where I think it adds an extra angle to things. I have even talked to players on away games, knowing that they have their home fans there, it kind of takes that away that feeling of the home-field advantage away a little bit.
So I think that the league is definitely realizing that teams are going to succeed where there is support. We have obviously seen in the Pacific Northwest where there is support, down in Orlando, and even in Miami. I generally think there is going to be a good rivalry between Orlando and Miami as the fans are already giving each other stick. In the next five years, I think we are definitely going to see this supporter's attitude spread across the United States.
Maslin: Obviously a lot of the movie is about D.C. United, but there are larger themes about U.S. Soccer that go on throughout your movie. I was wondering if you could talk more about that.
Yancey: As much as this film is about D.C. United and Barra Brava, the beginning and the ending of the film touch on the subject of where soccer is on the national and domestic level. We tell the story of the Barra Brava, but in the sense of the league and supporters league-wide and where it is because of the Barra. So although this is very much a D.C. United and Barra Brava film, I feel like fans and people who are not necessarily into soccer will be able to sit down and enjoy it because they will be able to see the growth of our league and the growth of our game through this film.
Maslin: So where will people be able to see "Muerte O Gloria?" What are some of the next steps that your company is looking to take to get this out to the general audience?
Yancey: Right now, we have been in contact with "Kicking and Screening", which is a very big soccer film festival that goes throughout the United States and a few cities in Europe each year. We have been talking with them about getting our film in the festival and from day one that has been one of our main goals, to have our film premiere at the Kicking and Screening Soccer Film Festival. So far, the festival promoters really seem excited about what they have seen.
After that, we want hopefully get theater distribution and get on to Netflix or something like that. We have also been in contact with a few network channels to have come on as an hour-long special. That is where we are at right now, but like I said the Kicking and Screaming Festival is likely where we will premiere towards the end of the summer.
We are also hopefully going to have a "friends and family" screening in D.C. to show the Barra Brava fans the movie that would not have been done without them.
--
To learn more about "Muerte O Gloria," please check out the movie's website. Soccerly will provide you all the latest details on the film as they become available.
04/30/2016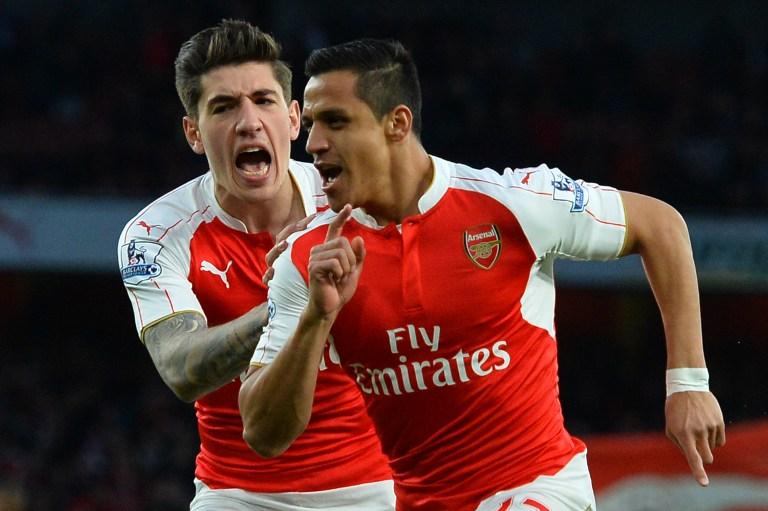 | | | | | | | |
| --- | --- | --- | --- | --- | --- | --- |
| | | | 6 | | | |
| | | | | | | |
| --- | --- | --- | --- | --- | --- | --- |
| | | | 3 | | | |
04/26/2016