Robert Burns examines the state of Jurgen Klinsmann's multicultural USMNT in the wake of Julian Green's addition to the squad.
Red, White, Blue & (Julian) Green 
03/27/2014
A fascinating debate is engrossing world football at the moment, and especially here in the United States, about the validity of 'foreigners' pledging allegiance to national teams far from home, and often through tenuous connections.
The chatter here in the U.S. is about Julian Green, who recently joined Jurgen Klinsmann's multicultural revolution with the Men's National Team. Is that even ironic here in the world's biggest melting pot? This particular case is not cluttered by any legalities as Green was born in Tampa, but does bring into question just how 'American' players are who happen to have an American father or mother but have spent most of their lives abroad – and most importantly, developed their football overseas.
This is where things get complicated.
Green finds himself in the 'foreign' category with another exciting, fresh U.S. face – Aron Johannson. Both were born on American soil but moved early in their lives to Germany and Iceland, respectively. Then there's Mixx Diskerud, born in Oslo, but spent time with both the Norwegian and U.S. youth setups, before ultimately deciding to cross the Atlantic more times than is generally recommended.
We've got the Mexican connection as well – players like Omar Gonzalez, Herculez Gomez, Jose Torres or Joe Corona. All born in the U.S. but courted from both sides of the border en route to their professional careers.
These players join the likes of Jozy Altidore, born to Haitian parents in New Jersey, as first-generation Americans. And of course, you've got the apple pie gang – born and raised here with parents who never missed a Super Bowl – guys like Landon Donovan, Clint Dempsey, and Michael Bradley.
Quite simply, the locker room dynamic must be absolutely fascinating, and goes far beyond just a passport.
Just a week away from another pulsating friendly encounter with eternal rivals Mexico in a warmup for June's World Cup, Green has been thrust into the national spotlight, and not only because of his abilities on the pitch.
There's a growing fear among many U.S. purists that the 'true' American player is being cut off from National Team opportunities as promising talents with any American ties are plucked from abroad. The amusing part of course, is that when these players are lost to other National Teams, such as Giuseppe Rossi (Italy) and Neven Subotic (Serbia), the outcry is equally great.
Green's case, although some may dispute it, is cut and dry. He was born in Florida. He is an American citizen by that right. No one should have any problem with that.
Ignoring for a second the complexities of naturalization, the major issue for Jurgen Klinsmann shouldn't be if a player is 'American' enough for the U.S. squad, but if he can help the team win. That's his job. If he wants to keep his job, he has to continue winning. It's that simple. If Klinsmann, who has surely seen more of Green than 99.9% of us, feels that the Bayern youngster can win him games, now and in the future, he will make it happen.
Now we come full circle to the locker room dynamic. Surely Klinsmann didn't fly Green all the way over from Munich not to get him some minutes and a first U.S. cap on April 2 in Phoenix. If he impresses, or even if he fails to make a splash, there's a very good chance Green makes the U.S. roster in Brazil.
He may not play a minute at the World Cup, but like Brazil's Ronaldo in 1994, he will be there to get the experience necessary to play perhaps every minute in Russia and Qatar.
"First off, what is America other than a massive collection of immigrants? Isn't that what we celebrate about our heritage?"
Why is an 18-year-old playing for the Bayern reserves so coveted? Well, he's not just playing for them, but is arguably their best player. When Bayern's roster took a hit before a Champions League match in Moscow, they called up Green to fill the void. This is the best club in Europe currently, and he's right there on the fringe.
Not many current U.S. players could make that claim. But with only a 23-man roster at Klinsmann's disposal in Brazil, there's every chance that another U.S. player, one who toiled his way though the grueling World Cup qualification process, will be left out. It's bitter, but it's reality.
So will the locker room be divided by cultural and sporting nuances? Will players speak behind each other's backs when things get tricky? Will cliques form (or have they already)?
Surely players like Brek Shea or Brad Davis need to be worried about Green's arrival. And they would have every right to feel aggrieved should Green supplant either of them in Brazil, but that's simply not Jurgen Klinsmann's problem.
His problem is threefold; Ghana. Portugal. Germany.
Within the locker room, it's up to the senior players to break through any gossip and chatter and focus every player, both 'American' or 'not-entirely-but-kinda-sorta-mostly-somehow American,' on the task at hand. Perhaps like never before have Tim Howard, DaMarcus Beasley and Landon Donovan been so important to U.S. fortunes, only now it's just as critical how they perform behind closed doors, as well as on the field.
This is another reason why Steve Cherundolo's retirement comes at an inopportune time for the U.S., but when the knees stop working, you can't blame the guy. It's unfortunate because after more than a decade in Germany, he was Klinsmann's perfect player conduit to that faction of the squad. And while many Stars and Stripes supporters may feel, as Bruce Arena did, that taking players developed in foreign nations goes 'against the spirit' of the World Cup, the opposite may very well be true.
First off, what is America other than a massive collection of immigrants? Isn't that what we celebrate about our heritage? Secondly, if more competition for places creates a better national team, the domestic game only profits from it. Major League Soccer can already expect to see a decent bump after World Cup fever hits the U.S. A good showing ala 2002 or 2010 could make that bump turn into a mountain.
While it may be changing slightly as club football begins to dominate the landscape more and more, the true fantasy and passion for soccer is never more palpable than at a World Cup. It creates dreams. Dreams that young American kids, both here and perhaps somewhere else across the globe, can aspire to reach.
If it makes you feel better, realize that this is going on within just about every National Team in the world, including the greats like Spain (Costa), Italy (Balotelli) and Germany (pick one). Remember, this is the United States. Red, White, Blue & Green.
04/30/2016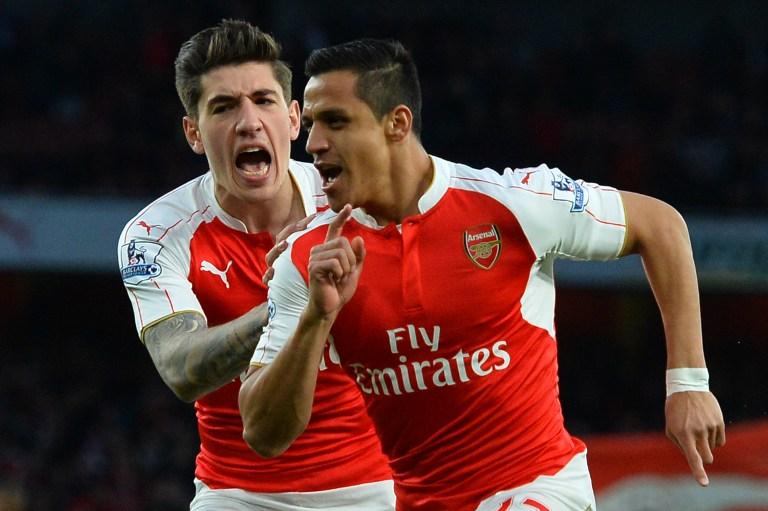 | | | | | | | |
| --- | --- | --- | --- | --- | --- | --- |
| | | | 6 | | | |
| | | | | | | |
| --- | --- | --- | --- | --- | --- | --- |
| | | | 3 | | | |
04/26/2016