On Wednesday, May 28, 'El Tri' will start its World Cup preparations with a friendly against Israel at the Estadio Azteca.
Mexico Must Experiment Against the Blue-Whites of Israel
05/26/2014
On Wednesday, May 28, 'El Tri' will start its World Cup preparations with a friendly against Israel at the Estadio Azteca.
KNOW THE ENEMY: ISRAEL
For manager Miguel 'Piojo' Herrera, Israel may present the first serious challenge to Mexico. Israel only missed the World Cup qualifying playoff on the final weekend of qualifying out of Europe. It is a side that may be relatively unknown to Mexico supporters, with Mallorca's Dudu Aouate who was one of La Liga's best keepers in 2012-13 (before Mallorca got relegated to the second division) not in the side.
The only players El Tri might recognize would be PAOK attacking midfielder Bibras Natkho who had scored a few famous UEFA Champions League goals for Rubin Kazan, Queens Park Rangers' wide midfielder and Israel captain Yossi Benayoun who has typically operated in a free roaming midfield (and occasionally forward) role. Names like Standard Liege center back Tal Ben Haim (there are actually two players of that name on the Blue-Whites' squad) who had played in the Barclays Premier League with Sunderland and Portsmouth in 2010 and 2011, and Arminia Bielefeld striker Ben Sahar are names that might give El Tri an indication of Israel's quality.
But there is one player whom El Tri must defend that might give them practice for defending players that can take El Tri defenders apart on the dribble, and with their creativity and shooting. That player would be Maccabi Tel Aviv attacking midfielder Eran Zahavi (bright yellow in the cover image), who scored the most goals in an Israeli club season in 59 years with his 29 goals. The goals came on any combination of free kick shots on goal, chips, simple shots and headers, as well as brilliant solo runs. The midfielder has also proven to be one to use his creativity in setting up his teammates with great chances on goal, and will prove to be a man Mexico must mark.
These players, and many others that manager Eli Guttman has brought with him to the Estadio Azteca, are some that the Israel manager would like to experiment with before his side begins its qualification for UEFA Euro 2016 in September. Israel is drawn in Group B and will have to get past World Cup sides Belgium and Bosnia-Herzegovina, as well as Wales (who will feature Real Madrid winger Gareth Bale), Cyprus, and Andorra.
WHAT TO EXPECT FROM MEXICO
Miguel Herrera is expected to experiment throughout the Israel match as well as during the rest of the friendlies--the friendly in Dallas against Ecuador on May 31, and against Portugal on June 6. Among the experimentation's that has been revealed, 'Piojo' Herrera is expected to rotate his three goalkeepers, having each one start each one of the matches. Jose de Jesus 'Chuy' Corona has been told that he will start the match against Israel.
But the goalkeeper position is the least of El Tri's worries. Mexico has heavily relied on Piojo's 5-3-2 (really a 3-5-2) to provide most of the thrust for its attacks, with America wingbacks Miguel Layun and Paul Aguilar playing the wingback role. However, Herrera, judging from his selections of several outside backs including Miguel Ponce, Carlos Salcido, and Andres Guardado (who nominally is more of a winger than outside back), acknowledges the weaknesses of both Miguel Layun and Paul Aguilar in defending attackers deployed in wide areas.
Guardado, along with Leon midfielders Juan Jose Vazquez and Carlos 'Gullit' Pena, Guillermo Ochoa, Giovanni dos Santos, Hector Moreno and Javier 'Chicharito' Hernandez will be late arrivals into Piojo's camp, and may not start the match against Israel, so Piojo might initially stay with his 5-3-2.

The arrivals of Moreno, Hector Herrera, Diego Reyes, Andres Guardado, and Pena may offer Mexico both the speed and technical ability in defense and holding midfield to prevent the Blue-Whites and their future opposition from gaining possession, or preventing clear-cut scoring chances when their opponents do manage to build up their attacks from the back.
This will also be Herrera's first look at Chicharito as well as dos Santos and the other Europe-based players. He might be relieved many of them may actually display the technical prowess to handle a skilled, creative opponent like Israel, or Cameroon, or perhaps Croatia. He may not learn much about them in terms of whether or not he trusts his Europe based players against stronger opposition, but he will learn how these Europe-based players will mash in with the rest of his Mexico-based selections.
At the very least, no matter what the scoreline says against Israel, Mexico cannot afford an injury to one of these Europe based players, or his attacking midfielders--Pena, or Luis Montes, or Marco Fabian. If one suffers an injury, the absence of Villarreal outside back/wide midfielder Javier Aquino, who was mysteriously left out of the World Cup squad despite having a great season at his club team.
One other question Piojo will have to solve will be his striker situation. While most observers would still go with Chicharito (Hernandez) of Manchester United as the first striker, he has been starved for playing time under David Moyes. When Chicharito has played, he had the touch of a streaky striker that was out of form. He can still make the timely runs in behind defenders, but he is unable to hold up the ball or take on defenders in a way that Alan Pulido (whom is rumored to move to Olympiakos Piraeus in Greece after the World Cup), the estranged Carlos Vela, or even Raul Jimenez or could do.
WHO SHOULD START FOR EL TRI?
Anticipating 'Piojo' Herrera may still stick with his 5-3-2 to start with, he might go with a lineup of the following.
Corona; M. Layun, R. Marquez, D. Reyes, H. Moreno, P. Aguilar; C. Pena, J. J. Vazquez, L. Montes; G. dos Santos; J. Hernandez.
If 'Piojo' decides to start out with a 4-4-1-1, with his best possible team, he may (and should start) the following lineup, with Pulido's youth and flair making him an ideal candidate to try as the primary striker in the friendly. Piojo should be one to take risks during this process, and taking a chance on Pulido may be one that will be well-rewarded come their first World Cup match in Natal.
Corona; C. Salcido, D. Reyes, R. Marquez, H. Moreno, M. Layun; C. Pena, H. Herrera, L. Montes, A. Guardado; G. dos Santos; A. Pulido.
04/30/2016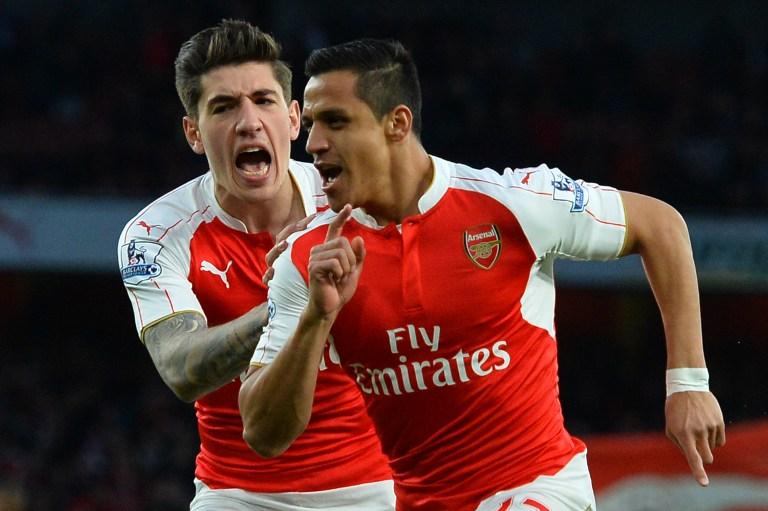 | | | | | | | |
| --- | --- | --- | --- | --- | --- | --- |
| | | | 6 | | | |
| | | | | | | |
| --- | --- | --- | --- | --- | --- | --- |
| | | | 3 | | | |
04/26/2016