Mexico needed a masterclass performance from Guillermo Ochoa to preserve a 0-0 draw against Brazil in which Mexico was thoroughly outplayed for most of the match. Although Brazil lacked the true invention that defined its team at times throughout the match (and will likely have some fans wishing Kaka, Ronaldinho, or Leandro Damiao,) here are five things we learned about 'El Tri' moving forward.
Five Takeaways From Mexico's 0-0 Draw Against Brazil
06/17/2014
Mexico needed a masterclass performance from Guillermo Ochoa to preserve a 0-0 draw against Brazil in which Mexico was thoroughly outplayed for most of the match. Although Brazil lacked the true invention that defined its team at times throughout the match (and will likely have some fans wishing Kaka, Ronaldinho, or Leandro Damiao,) here are five things we learned about 'El Tri' moving forward.
1) GUILLERMO OCHOA WAS THE RIGHT CHOICE FOR 'EL TRI' in goal
'Memo' Ochoa will get plaudits from fans and commentators alike for his outstanding saves, and his positioning, and bravery in stopping Brazil's final balls from connecting. But many observers, including some in the English-language USA-based commentary camp thought Jose de Jesus 'Chuy' Corona was more steady, and made more saves.
In reality, it was clear that Mexico was going to need Memo Ochoa's athleticism, aggressiveness, and bravery against the faster, better, more technical teams they were going to face in the World Cup. It was one thing to be steady and stop shots, and occasionally contribute to the buildup against teams like Israel, Finland, or a B-side South Korea. It's another to do it against the best teams in the world, particularly those with players that can beat defenders 1v1 or 1v2 with multiple moves, can break down opponents' shapes with their passing and test their goalkeepers with their quality of shots using both feet, and all at many different positions.
Memo Ochoa was there to pick up for Mexico's defenders when Brazil beat them with his fantastic saves and traps of through-balls that caught Mexico's lines not being on. There were a couple fortunate offside calls against Fred in the first half that prevented the barrage on Ochoa from being worse. But Mexico's defenders, especially the wing-backs, were outclassed on the defensive side of the ball.
2) MIGUEL HERRERA CANNOT SET UP IN A 5-3-2 AGAINST CROATIA IN THE FINAL MATCH
'Piojo's' 5-3-2 system has relied on Miguel Layun and Paul Aguilar as his wing-backs to provide width in attack. Having that width in attack necessitates that Mexico play the match with most of the possession of the ball, so that the wing-backs who might have the pace (in general) and technical ability to contribute going forward, do not have to do much defending. Typically the outside center backs are asked to cover defensively in those wide areas (as well as in the interior). That is a lot to ask of Hector Moreno and 'Maza' Rodriguez, and so far both defenders have been up to the defensive task.
Unfortunately for Mexico, it was Brazil who had most of the ball, and regularly exploited the defensive weaknesses of Miguel Layun and Paul Aguilar in wide areas. If Miguel Herrera does not make any changes to acknowledge the possibilities of long spells without possession, Miguel Layun and Paul Aguilar will become sore spots.
Luckily for 'Piojo', he has two capable outside backs in Miguel Ponce and Carlos Salcido who are much better at handling their defensive duties than Layun and Aguilar demonstrated against Brazil. There is reason to believe Matteo Kovacic, Mario Mandzukic, and company will try to threaten Mexico out in those wide areas. Placing Ponce and Layun into the starting lineup will give Mexico more confidence defensively, which may allow it to be more secure in attacking knowing that they have outside backs that will not get as caught on the counter as their wing-backs were.
Of course, that decision may lead to secondary decisions as--"What to do with Rafael Marquez since he's no longer in his comfortable libero role?" or "Who's going to have the play making duties for Mexico in the attacking midfield?" That might be Andres Guardado (but he often likes to attack from wide positions) or Marco Fabian (same limitation), but it could also fall to Carlos 'Gullit' Peña, who had fallen out of favor with 'Piojo' in Mexico's last series of friendlies.
3) 'GALLITO' VAZQUEZ WAS OVERWHELMED IN THE HOLDING MIDFIELD
It is no secret that Brazil have plenty of players that are quick and adept at the pressure game, and can win balls from opposing players in so many ways without committing fouls--whether it was the hard-charging Ramires, or a combination of Paulinho, David Luiz, Luiz Gustavo, Thiago Silva, Marcelo, and Dani Alves and Neymar, could make life difficult for Mexico in trying to establish their possession game.
Juan Jose 'Gallito' Vazquez has often been the man for 'El Tri' in the buildup leading to the World Cup, and in the opening match. looked to be the man that would shield the back three and be the man helping to orchestrate the attack.
But each time he had the ball in space, Brazil defenders closed down the lanes quicker than he could pass, and his touch and control was not good enough to prevent turning the ball over to Brazil's attackers. It does not get any easier for 'Gallito' as Ivan Rakitic and Luka Modric will be the central midfield duo he will have to win balls against (and string the attack against).
There was enough evidence to think that Gallito Vazquez's weaknesses against Brazil were simply because he was slow, and does not have the world class control and range of passing with both feet that would allow Mexico to play more from the back.
Mexico may need to commit more numbers to helping clog the midfield against a skilled and quick Croatia side to aid Vazquez to solve this problem if they want to get out of their group.
4) 'CHICHARITO' DID NOT EARN HIMSELF A STARTING PLACE, AND NEITHER DID ORIBE PERALTA.
The controversy with Miguel 'Piojo' Herrera in recent times has been whether or not Javier 'Chicharito' Hernandez should get more playing time.
The problem with 'Chicharito' is that he is a goal-poacher in the mold of Chris Wondolowski, but faster and with slightly better technical ability. He is a penalty box predator, but he can be marked out of the match as well and does not threaten from distance, or with 1v1 ability or with creativity (playing others in). Mexico fans have longed for the flair of Hugo Sanchez or Cuauhtemoc Blanco in the attack (but there really is not a true enganche or two in the Mexico pool that can provide that play making skill, and one guy who could is cap-tied to another country).
So that flair, that bravery that Mexico will need may have to come from the forwards besides Giovani dos Santos (it is to give the versatility to Gio dos Santos to operate from the midfield as well as more effectively in an attacking role). While Oribe Peralta has done much better than 'Chicharito' in the hold-up play, Raul Jimenez can provide that spark with his movements and his shooting. And so can Alan Pulido.
The chances Raul Jimenez helped to create (even though they were very few, and he egregiously brought down Marcelo in the area late in the match) were more than what 'Chicharito' has directly created in two matches.
Jimenez has also shown he can play a holdup role for both America and Mexico, and there are reasons why he has drawn interest from Europe. But Alan Pulido, the man who might already be on a plane to Piraeus after the World Cup depending on which source is consulted, can also provide that spark with much more skill.
If Croatia wins on Wednesday, this is a decision 'Piojo' Herrera has to at least entertain. With 'Chicharito' and Oribe Peralta, there is not enough flair as is to make defenders worry about anyone other than Andres Guardado and Giovani dos Santos--and that is something 'Piojo' has to try to solve.
5) 'PIOJO' IS NOT GOOD AT SETTING UP INITIAL TACTICS BUT HE CAN GET HIS TEAM GOING AFTER THE HALF.
The Mexico manager has stuck with his 5-3-2 for most of the game, and does not consider the strengths or weaknesses of the opponent, or where his team lines up. And by giving out his lineup the day before, it opens up his strategy to be countered and out-maneuvered by his opposite coach. While an ideal Brazil would ideally feature Willian attacking down the right, versus Oscar (who would normally be in a more central position). He instead put Ramires, a destroyer, in that central position to deal with Giovani dos Santos, Oribe Peralta, and Andres Guardado. And that move, before Ramires got booked and Brazil decided to try to change to more of an attacking lineup, countered the XI that 'Piojo' put out the day before.
But from the start of the second half, Mexico gained much more of the possession and Mexico did not make any halftime changes. One way to look at it would be that Piojo told his team to increase its tempo and work harder to win the ball, and move it quickly to attack (or make the movements necessary to keep the ball under pressure). It continued a trend of Miguel Herrera's Mexico adjusting in between halves to compensate for not initially gaming the first part of the match--one that was started in the friendly match against the USA in Phoenix (and has continued since then).
But it also says the Miguel Herrera simply trusts his players to find and exploit gaps in the other teams' abilities and formations, rather than do much tactical work himself. It is often the safer and more reliable strategy to trust the players he has, and in this case Piojo trusted his players to do the work, with great effect to get a historical point against Brazil.
04/30/2016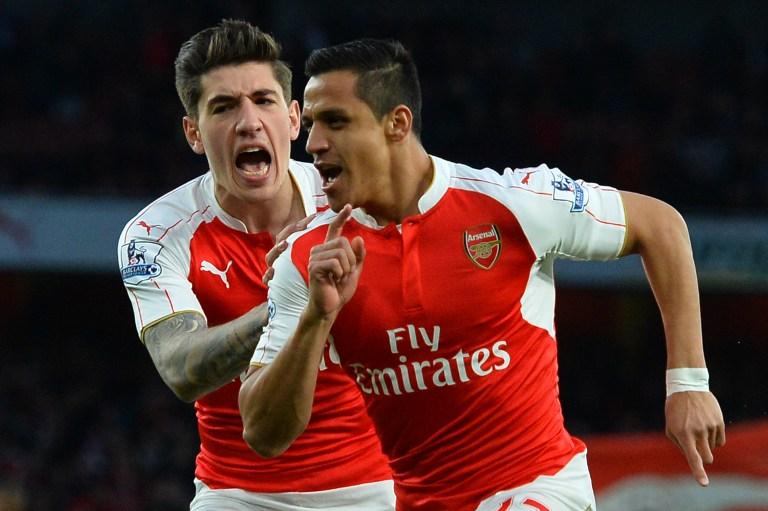 | | | | | | | |
| --- | --- | --- | --- | --- | --- | --- |
| | | | 6 | | | |
| | | | | | | |
| --- | --- | --- | --- | --- | --- | --- |
| | | | 3 | | | |
04/26/2016