Grading the Mexican players in loss to Holland in the Round of 16.
Mexico player ratings: Mexico 1-2 Netherlands
06/29/2014
Mexico played valiantly for most of the match, but were done in by the heat, referee Pedro Proenca, and the Netherlands attack late in the match to lose 2-1, crashing out of the World Cup in the Round of 16 for the sixth straight time. We take a look at how the individual players performed.
STARTING XI:
GK: Guillermo Ochoa - 7.0
'Memo' Ochoa was called into action on several occasions to stop Netherlands' attacks point blank. He bailed out a Mexico defense that seemed all sixes and sevens defending corner kicks late in the match with a few saves on Robin van Persie, Daley Blind, and Arjen Robben, and had to be strong in collecting crosses with the Netherlands' pressure. Even though there were times the Mexico side controlled the play and took Ochoa out of the match.
Right Wingback: Paul Aguilar - 6.0
The America wingback was solid defensively and did not push forward as much as Miguel Layun, but he helped add width at times to Mexico's attack. He became overwhelmed, as with most of the Mexico team in dealing with Memphis Depay, Arjen Robben, Klaas-Jan Huntelaar and Dirk Kuyt on the wings as Mexico put nine men behind the ball late.
Right Center Back: Francisco 'Maza' Rodriguez - 4.0
'Maza' may have helped to recover balls, but the quick Netherlands attack worked behind him most of the match and forced Rafael Marquez and Hector Moreno to recover for his error. One such poor control forced Rafael Marquez and Hector Moreno to defend against Arjen Robben close to goal toward the end of the first half. Unfortunately it would force Moreno to leave the match with an undisclosed injury.
Libero: Rafael Marquez - 5.5
Despite conceding the game-deciding penalty, Rafael Marquez had a decent game. His distribution picked up where 'Gallito' Vazquez's distribution was missed. But he was forced into more defensive positions due to the pressure Wesley Sneijder, Robin van Persie, Daley Blind and Memphis Depay put on the Mexico defense.
Left Center Back: Hector Moreno - 6.0
When Maza Rodriguez, Carlos Salcido, and others were beaten, it was Hector Moreno making the recoveries and bailing out Guillermo Ochoa throughout the match. His loss due to an injury in the 45th minute was a critical loss for Mexico that opened up the left channel for Wesley Sneijder, Arjen Robben and others to attack.
Left Wingback: Miguel Layun - 5.5
Miguel Layun was doing special things punishing the Netherlands for using Paul Verhaegh out wide, and threatened on goal on several occasions throughout the opening stanza. During the second half, after Louis van Gaal put Memphis Depay into the match (onto Paul Aguilar's side) and switched Dirk Kuyt over to Layun's side, he could no longer provide the width. Kuyt was able to pressure Layun when he ventured forward and tried to take him on 1v1, and created several chances on the counter as a result.
Right Midfielder: Andres Guardado - 5.0
Guardado had his usual busy day on the pitch. He was involved in the attack and created a few chances, but he was often caught forward in defense, which did not help when Mexico spent the last part of the match in said defensive shape. His passing, however, allowed Mexico to sustain some possession to relieve the pressure late on Mexico's defense.
Central Midfielder: Carlos Salcido - 4.0
While Salcido's passing and shooting helped Mexico find its life in the opening half, his lack of pace contributed to the Netherlands playing passes behind him, and to Mexico being unable to keep the ball. His distribution was there, but he was never going to be 'Gallito' Vazquez on this day.
Left Midfielder: Hector Herrera - 6.5
Herrera's passing and creativity were on full display this match, as he regularly contributed to Mexico's buildup play, and created more than a few chances for Mexico to score.
Striker; Giovani dos Santos - 6.5
Giovani gave Mexico fans their moment of joy with the 48th minute rocket shot golazo from 25 yards out. He was one who was regularly shooting on Jesper Cillissens's goal. His sub out in the second half for a more defensive tactic from Miguel Herrera was a contributing factor to Mexico faltering late against the Oranje.
Striker: Oribe Peralta - 5.5
'El Cepillo' caused the Oranje problems with his linkup play in the Mexico attack and contributed to a number of 'El Tri' chances on goal. After Paul Verhaegh was subbed out for Memphis Depay, Peralta was taken out of the match and had to be replaced by the later stages of the match.
SUBSTITUTES:
Diego Reyes - 4.0
The FC Porto man was overwhelmed in the back despite his pace and technical ability. He was often the one who provided the space for Arjen Robben and Wesley Sneijder to receive balls in spaces behind the Mexico midfield. The young defender still has time to improve and could have been better served in the holding midfield in Salcido's role (with Salcido moving back to the left side of the central defense). His buildup play as soon as he entered the pitch showed what he could do when he has the ball.
Javier Aquino - 5.5
Aquino came in to be a threat on the break for 'El Tri,' and looked lively as he did. His buildup play and creativity were on full display when Mexico was on the counter. He could have been surer on the ball, but that was tough to ask given how much defending he and the rest of the Mexico side had to do late in the match.
Javier Hernandez - Incomplete
'Chicharito' made his usual runs, but only had a few touches in the match. He was effectively taken out of the match when Mexico were forced to put nine men behind the ball by the Oranje attack.
COACH RATING:
Miguel Herrera - 4.5
While 'El Piojo' has shown faith in his side, and got rewarded with his adjustments earlier in the tournament, this was the one game where 'Piojo' would make an adjustment and it would kill the game. Making a defensive substitution, taking out Oribe Peralta for Javier Aquino killed much of the attacking resolve of 'El Tri.' 'Piojo' was also forced into a tough situation having to burn a substitution to replace his best defender in Hector Moreno with a young defender (Diego Reyes) who is still trying to learn how to defend at the highest level.
His decision to say "the world was against Mexico" at his press conference will likely be viewed in some disgust, considering the reparation job he did to 'El Tri' within the last six months, and how many fans he won over from all nations throughout the World Cup. There will still be time for the FMF to debate 'Piojo's' future, and the big question will be "does he deserve a full World Cup cycle?" Will his intensity and honorability help "El Tri" moving forward? Did he do enough to maximize what seemed to be a good, but not world class group of players? He certainly deserves a shot at a full cycle, even though this one match was not his best.
04/30/2016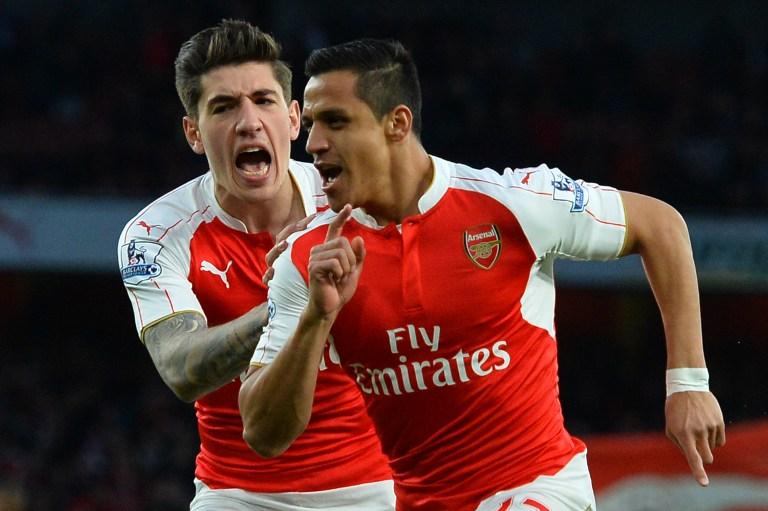 | | | | | | | |
| --- | --- | --- | --- | --- | --- | --- |
| | | | 6 | | | |
| | | | | | | |
| --- | --- | --- | --- | --- | --- | --- |
| | | | 3 | | | |
04/26/2016