Carlos Vela is in the best form of his still young, promising career. Mexico is suddenly in its most dysfunctional state in the last quarter century, despite this also being the period where they could become a true global power. Its "Golden Generation's" future could be decided by this pertinent decision of detente.
It's Time For Mexico & Carlos Vela to Make Up
09/17/2013
All year long, the major question in regards to CONCACAF's elite teams with "Players in their national team's proverbial doghouse" has been where Landon Donovan stood with Jürgen Klinsmann. Many questioned if Donovan would be called up to this summer's Gold Cup or any of the World Cup qualifiers in the fall after being shun all year by the German. Some even pondered if Donovan would be on the United States World Cup roster at all next year.

Those questions finally reached a sound conclusion with Donovan's display in the Gold Cup this summer, thankfully putting a story that was overblown and silly to the grave. Instead, a much more intriguing and ongoing tale of a top player possibly not factoring in to his country's plans at Brazil 2014 comes further to the forefront with each passing minute. And now, with constant turmoil and actual danger of missing out on their first world championships since the Cachirules scandal 24 years ago, it's time for Mexico and new coach Victor Vucetich to try and get back the services of Carlos Vela.

It's a red alert situation for El Tri. Luis Fernando Tena's Olympic magic couldn't erase the stain of Chepo de la Torre's tenure right away in Columbus, Ohio. With their latest "Dos a Cero" defeat to the U.S., the situation has gone from dreading the long 4th place playoff trip to New Zealand to the country's economy and morale potentially being damaged.
October 11 now is a virtual "do or die" for the country "south of the border," with Panama coming to the once impervious Azteca looking to deliver a more painful blow than the two shock defeats in the Gold Cup they gave this past July. A spark plug is required, and with no offense to the solid veteran that is Christian Giménez, he is not the one man that fulfills the current pressing need.
Vela isn't only the hottest Mexican player in form at the moment (with the also current national team outsider Memo Ochoa a close second). He is arguably the hottest striker on the planet right now. Hotter than big money transfer superstars Radamel Falcao and Edinson Cavani. Hotter than magazine coverman Mario Balotelli. Hotter than even the machines that are Robin Van Persie and Robert Lewandowski.
Coming off a career resuscitating two seasons with Real Sociedad after his promising but stop-start tenure with Arsenal, Vela has been hell bent on becoming a La Liga and Champions League star at the start of his third campaign with the ascending Basque club. With no offense to legendary club playmaking captain Xabi Prieto, Gerard Pique-like centerback talent Iñigo Martínez, slick French winger Antoine Griezmann, no nonsense target man Imanol Agirretxe, and the departed holding midfielder wonderkid Asier Illarramendi, the former Guadalajara youth product has been the main reason for the Txuri-urdin great return to Spain and Europe's elite.
Vela fittingly opened La Liga BBVA's 2013-14 campaign scoring account with a classy finish and assist to spearhead Sociedad's 2-0 win over Getafe in their opener. Vela proceeded to then give Sociedad fans further nostalgia of the days when Nihat, Darko Kovacevic, and a young Xabi Alonso battled and held their own with Real Madrid, Barcelona, and the rest of UEFA's elite with his displays against Lyon in the crucial Champions League playoffs.
Lyon supporters are relieved that they won't have to face Vela and Sociedad the rest of the year, as the #11 produced nightmares for center back trio Milan Bisevac, Gueida Fofana, and Samuel Umtiti throughout the two legs. Although he didn't score at the Stade de Gerland, Vela set up Griezmann's stunning finish and provided space for new Swiss addition Stef Seferovic's great long distance tally for another impressive 2-0 victory. Vela and his teammates did not remain complacent with the great road result, as he recorded another sensational performance with a brace to propel them to the group stages. One of those goals included that remarkable 50 yard run and solo finish that still is having fans around the planet in conversation.
But the difficult challengers of Manchester United, Shakhtar Donetsk, and Bayer Leverkusen in their Champions League group pale in comparison to Vela's battle of getting back into a man in demand for his country.
Who would have thought in the midst of Mexico's Golden Age that Vela's last international tournament was the last World Cup in South Africa?
Vela's disconnection with El Tri all started with the party he and Efraín Juárez threw in a team hotel after a friendly against Colombia in September 2010. That fiesta resulted in their six month ban from playing for their country. Unlike Juárez, Vela had no interest in being apart of the winning 2011 Gold Cup team as tensions between him and the federation further boiled.

With Giovanni Dos Santos, Javier Hernández, and Pablo Barrera on top form, the U-17 World Cup championship triumphant on home soil, and the following summer's 2012 London Olympics gold medal victory over Neymar, Oscar, and others from Brazil, it seemed Mexico didn't need the services of Vela for the near future. And with the forward still determined to have stability with Sociedad after his unsatisfying time at the Emirates, Mexican fans and media were far from begging for his return.
But my, how those times have changed faster than the updates on the Gareth Bale and Luis Suárez transfer sagas. Hernández is questioning if he will remain with United with his lack of playing time under new manager David Moyes, Barrera has tailed off to ordinary form with Cruz Azul after failing to impress at West Ham and Zaragoza, and Dos Santos is hoping that Villarreal will result in him staying with a club for a while. Add in Andrés Guardado and Javier Aquino not bringing their La Liga good displays to their country right now with Raúl Jiménez and Aldo De Nigris not establishing themselves as Jared Borgetti like target forwards and you see why the goal scoring futility throughout this dreadful qualifying campaign has continued.
A goal scoring futility that finally cost De la Torre his job and places Mexico as current spectators instead of participators for next summer in Samba land. And a cold war stance where Vela would be watching from afar, regardless of whether his country made it or not. It's an offer to Vela that Vucetich must make right now, and it's an offer Vela must take in return. All parties would regret if Mexico either didn't qualify or performed badly at the World Cup in 2014 without Vela's services potentially changing fates.
Carlos Vela is in the best form of his still young, promising career. Mexico is suddenly in its most dysfunctional state in the last quarter century, despite this also being the period where they could become a true global power. Its "Golden Generation's" future could be decided by this pertinent decision of detente.
It would be a real shame if these two sides can't coalesce and come together when the time requires it so very much right now for Mexican soccer. Ten times more than Donovan and Klinsmann's reconciliation ever was.
04/30/2016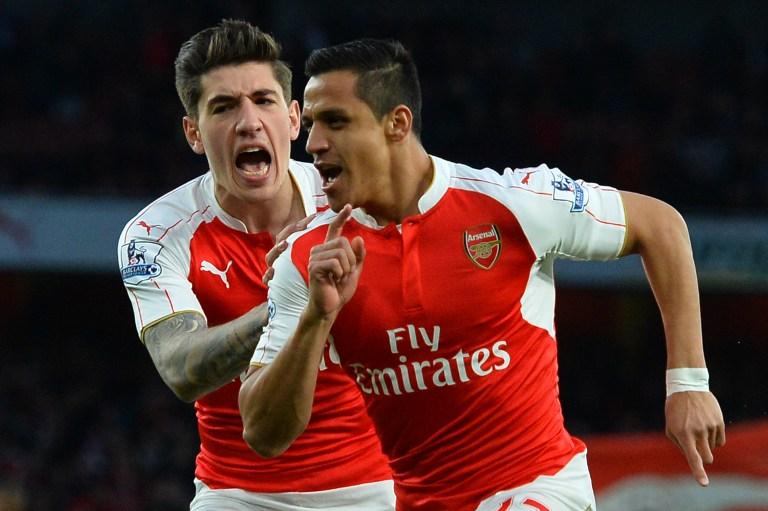 | | | | | | | |
| --- | --- | --- | --- | --- | --- | --- |
| | | | 6 | | | |
| | | | | | | |
| --- | --- | --- | --- | --- | --- | --- |
| | | | 3 | | | |
04/26/2016