A look back on some of the best moments and players with Mexico in 2014.
2014 rewind: Top moments for El Tri
12/31/2014
Kim Tate (@KimTateSports)
2014 was a fun and emotional year for football in Mexico, with a World Cup run led by an eccentric manager in Miguel "Piojo" Herrera, where El Tri impressed on a massive stage after months of drama and disappointment during qualification.
Since they qualified, Herrera seems to have taken a lifeless team and turned them into a decently-enough oiled machine to impress in Brazil, and even made an appealing case for a Carlos Vela return after years of tension between squad, federation and player. And if his obsession with entertaining the social media world with a myriad of group selfies isn't indicative of a happy team off the pitch, at least it gives us reason to smile.
My top moments for El Tri in 2014
Memo Ochoa's World Cup performance
CONCACAF in general had an impressive World Cup showing, but Memo Ochoa really stood out with shots blocked in ways you don't typically see. His diving save to deny Neymar's header, off-the-line- blocks of Arjen Robben's many threats, and double saves in rapid succession ignited excitement from even non- Mexico fans.
The below video shows the best of his performance in Brazil with varying angles on his most impressive saves.
Rafa Marquez had already been warned of committing fouls by the ref in Mexico's game against the Netherlands, and Robben took full advantage of a slight touch in the box from Marquez's foot and dove to the ground, resulting what the popular majority would call an unjustified penalty. Fair or not, what became of No Era Penal goes down as one of the most epic moments in World Cup history - and not only because the play, itself, caused so much outrage. Thanks to social media, hashtags of #NoEraPenal became T-shirts, coffee mug designs, bumper stickers and window decals, and the term is now widely used in games everywhere around the globe.
Piojo's touchline freakout(s)
Miguel Herrera's animated expressions put an additional spotlight on Mexico in the World Cup and made him world famous. An example:
After a three-year absence, Carlos Vela quieted what seemed to be a long-tenured animosity with the Mexican Football Federation and joined El Tri for their last round of games in 2014. I'm not sure many could have predicted that he would score two goals in that return, which happened to be against World Cup nemesis The Netherlands -- a game Mexico ended up winning 3-2 on Dutch soil.
The admirable thing about Carlos Vela, which adds to a little of the mystique of the Mexico situation, is his silence over the years while indirectly responding to his critics through actions and not words. His recent performance with Soceidad won him La Liga's player of the month for November, where he helped his team to a 2-1-1 record while scoring four goals of his season tally of six in the process. Overall, the 25 year old has scored 48 times since joining the team in 2011.
And as far as his return to the national team, Piojo will need to rely on two squads for 2015 with the Gold Cup and Copa America, so there's a good chance Vela will be a regular fixture for Mexico to rely on in the future.
Rise of Jonathan Dos Santos
Jonathan Dos Santos hadn't done much for Mexico in a long time, but his recent call-up with brother and Villarreal teammate Giovanni was a sign that he's doing something right at the club level, where he's managed to make three consecutive starting lineups -- something that hadn't happened with him since his days with Barcelona's B squad.
He was responsible for assisting Raul Jimenez in Mexico's game against Belarus in November, lobbing a pass over the defense for Jimenez to score the opener. He impressed by adding some life into a rather dull game, covering a lot of ground and picking up slack when necessary, which honestly was unexpected since he hadn't featured with Mexico in two years. His time spent at La Masia has shone through at Villarreal, where coupled with enough first team minutes, he has what it takes now to continue to compete for a regular spot in Mexico's midfield.
Erick "Cubo" Torres and Jesus "Tecatito" Corona joined Herrera's squad and made immediate impacts, showing signs of life and promise for what's ahead. After netting 22 goals with Chivas USA, Torres scored his first goal for Mexico in his first round of call ups and impressed in for the U21's in the Veracruz games, while Corona assisted Vela's second goal for Mexico against Netherlands within a minute of coming on as a sub. Both players are highly regarded at the club level and are young enough to still have a bit to go in terms of developing into roles deemed suitable for recurring national team appearances, and chances look good we'll see more of them.
There've been several key players and events within El Tri worth highlighting as we close out 2014. Hector Herrera is one of the most fun midfielders to watch at any level and could possibly be, at the moment, El Tri's most talented player. Chicharito found some flexibility in his role up top during the pre-World Cup friendlies, showing he's capable of doing a lot more than just getting close and scoring goals. Miguel Layun has had a standout year, which has also been aided by his performances at Club America.
The summer time losses of Luis Montes and Hector Moreno to injury were felt, but both are approaching recovery and could been seen again before or by the time 2015's Summer approaches. Having them back will certainly add some excitement for the coming year.
And while this team has shown signs of life and signs of complete disaster, the Mexico we all know and love will have a lot to showcase in 2015 as Gold Cup, Copa America, and Olympic qualifiers approach, hopefully giving us just as much entertainment and as many selfies as 2014.
04/30/2016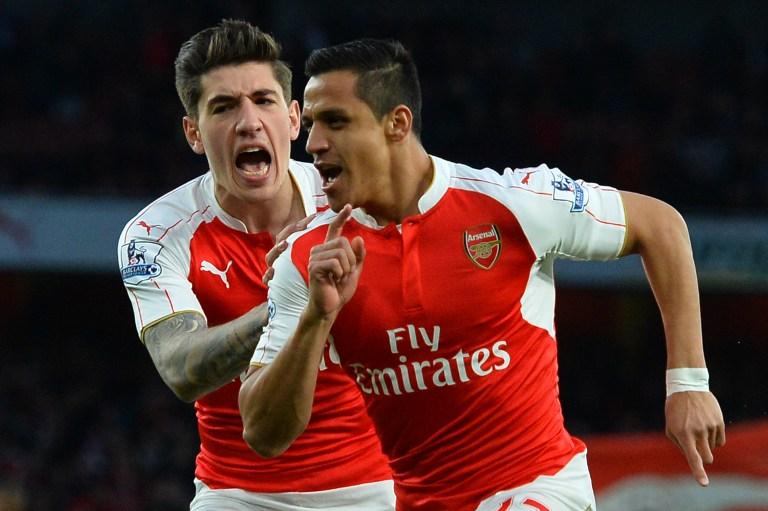 | | | | | | | |
| --- | --- | --- | --- | --- | --- | --- |
| | | | 6 | | | |
| | | | | | | |
| --- | --- | --- | --- | --- | --- | --- |
| | | | 3 | | | |
04/26/2016