When he finally decides to stop confounding defenders and striking terror (into) the ball (past) goalkeepers, Thierry Henry will be remembered for at least two achievements.
Does Henry's legacy hinge on the next three hours of soccer?
10/24/2014
When he finally decides to stop confounding defenders and striking terror (into) the ball (past) goalkeepers, Thierry Henry will be remembered for at least two achievements.
On a personal level, he will be applauded for not only his astounding goal-scoring ability but also for his ability to accelerate from zero to sixty in a matter of seconds, outrunning and then outgunning the opposition to score a ridiculous amount of goals -- 389 -- both domestic and international.
He also happens to be a walking trophy case, although you hardly ever hear him boast about his accomplishments.
He is the only person walking on this planet who can say he has won a World Cup, a European Championship and a UEFA Champions League title.
You can look it up: He starred for France in the 1998 World Cup and at Euro 2000, and played for Barcelona during its 2008-2009 and 2009-2010 UEFA Champions League championship seasons.
No one else has accomplished that rare feat, not Diego Maradona, not Zinedine Zidane, and not even Lionel Messi.
That's a pretty impressive trifecta anyway you look at it and one helluva legacy.
But it doesn't end there. Looking at his domestic achievements, you find a French Ligue 1 title with Monaco, two English Premier League crowns with Arsenal, two La Liga championships in Spain with Barcelona, three F.A. Cup winning sides and a FIFA Confederations Cup.
Henry really doesn't talk about his personal accomplishments unless asked. But here's one mind-boggling number: France was 46-1-4 in games where scored for his country. That's 46 wins, one loss and four draws. The lone defeat came when he scored Goal No. 45, in a 4-1 setback to the Netherlands in Euro 2008 on June 13, 2008.
"That's a resume for the ages by a player of the ages. "
Which brings us to the New York Red Bulls. In a much easier league than France, England or Italy, you might expect significant additions to those honors. Think again.
Henry has a Supporters Shield to brag about after 4 1/2 seasons with the Major League Soccer team and ... and ... well, that's just about it.
In Europe, winning the regular season title would have been good enough. But this is the good ole USA, land of the playoffs, the land of second chances, and the land of Cinderella teams.
The next two Red Bulls games could very well be his last in the league as there are rumors that Henry won't return after his Red Bulls contract ends after this season.
His legacy in MLS, through no fault of his own, has not been about winning championships, but rather playing at a high level while still grabbing the spotlight when you least expect it.
In their 19-year history, the Red Bulls have been abysmal failures in the postseason, regardless who they have had on their roster, whether it be Lothar Matthaeus, Youri Djorkaeff, Juan Pablo Angel, Amado Guevara, Tab Ramos, Tony Meola and Henry, among others.
More often than not, they usually have been ushered out of the opening round. For the record, that has occurred 12 out of 14 times they competed in the MLS playoffs. In their 2008 Cinderella run, the Red Bulls did make it all the way to MLS Cup, losing to a deserved Columbus Crew side, 3-1.
So, all that trophy failure has to bother the former French international, someone who has become accustomed to winning and winning it all.
He can be rather grumpy at times -- Henry doesn't suffer fools or foolish questions gladly -- but he is one astute student of the game, the international, his teams' and his own.
When talking about Henry last week, Red Bulls head coach Mike Petke enthused about the Frenchman's Mensa-level soccer IQ. "He's one of the greatest soccer minds," he said.
" "We could talk all we want -- I've said it many times -- on what he does on the field and what he can do, which is amazing. To have a conversation about soccer is like talking to Albert Einstein about physics or whatever you want to talk to him about, it's truly amazing to be honest with you." - Mike petke"
Give Henry a lot of credit. As he has gotten older, he has gotten even wiser. He knows that he isn't the same player who filled the net regularly for Arsenal. He doesn't have that same burst of speed. So the 37-year-old striker has adapted, playing playmaker rather than goal-scorer when the occasion arises.
And you know what? That has been fine with him, especially with the season Bradley Wright-Phillips has enjoyed, striking 25 times with one game to break the league's season record of 27.
So what is Henry's legacy to American soccer and the Red Bulls?
Well, from strictly a personal standpoint, it will be about creating something special out of nothing, whether it is scoring an Olympico goal to flicking the ball with what appears to be the greatest of ease and distance past a surprised goalkeeper to finding room and space to make what should be a difficult play look ridiculously simple.
"Over the last four years I think Thierry has brought something to this league that perhaps only one other foreign player has brought, which is obviously David Beckham," Petke said. "You could even say it's very different things that they've brought to this league. I would even throw Landon Donovan in there as a domestic player that has brought so much to this league. Thierry is arguably one of the top players in the history of this game. The prestige that he's brought over here, the recognition back in Europe just from him being here and coming here in his prime. Just to be able to witness him on a daily basis over his entire stay here in MLS is something I'll never forget."
But something is missing from Henry's legacy and trophy collection.
If the Red Bulls don't defeat Sporting Kansas City in their regular-season finale Sunday, Henry's MLS swan song could very well be as early the knockout round in Columbus next week, if New York follows its sorry playoff form.
He might not necessarily say it out loud, but Henry must be yearning to take one more victory lap around a soccer field with his teammates while they gleefully pass the championship trophy around in joyous celebration.
After all, he has mastered that technique like few players ever have at the highest levels.
And it would be the perfect way to end and celebrate a fabulous career, if this is supposed to be its final chapter.
04/30/2016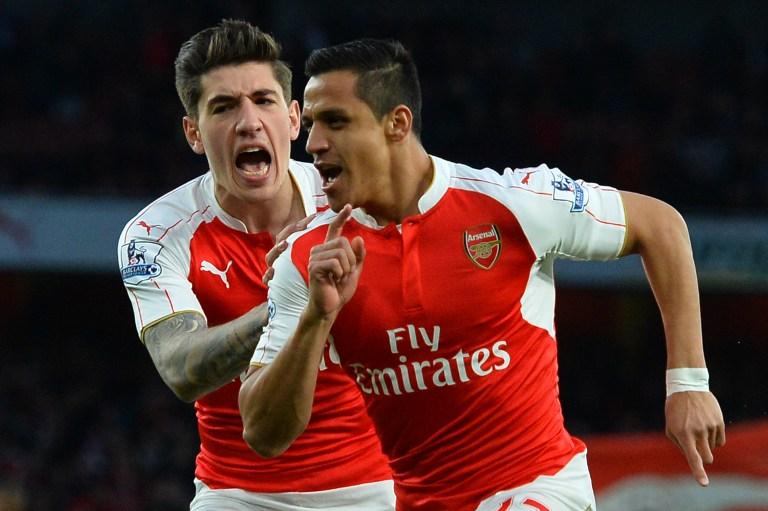 | | | | | | | |
| --- | --- | --- | --- | --- | --- | --- |
| | | | 6 | | | |
| | | | | | | |
| --- | --- | --- | --- | --- | --- | --- |
| | | | 3 | | | |
04/26/2016