A bit more than a month has passed since the start of the season for most of Europe's top leagues. Since then, only a handful have been able to maintain an undefeated status.
Europe's Invincibles 
09/29/2014
1. JUVENTUS (5-0-0)
The Vecchia Signora had to give up their manager Antonio Conte who took over the Azzurri after the World Cup. Juve's season so far is equivalent to a pitcher's perfect game with five wins out of the same amount of matches scoring 10 goals and not allowing a single one.
2. ROMA (5-0-0)
Roma is staying close on Juventus and are also marching perfect in Serie A. Rudi Garcia's philosophy has been grasped by his players in his second year. The team has kept their base, which is showing in their synchronized team play. Francesco Totti is getting all the help he needs with the addition of Mamadou Keita who has strengthened the midfield. Add to that how 23-year old youth product Alessandro Florenzi has been playing and you get the picture of why Roma is one of Europe's hottest teams.
3. BARCELONA (5-1-0)
Luis Enrique is looking to take Barcelona back to their glory days. Neymar and Lionel Messi are finally showing what they are capable of. The Brazilian is just 3 goals shy of his 2013-14 season total. A lot of the credit for Barcelona's brilliant start goes to their defense who have not allowed a single goal this season including their Champions League fixture vs Apoel.
4. CHELSEA (5-1-0)
The Blues lead the Premier League with an impressive 5-1-0 record averaging 3.2 goals per game. Chelsea's new cast is giving their manager enough reasons to continue building up on his ego. The additions of Diego Costa and Cesc Fabregas have been determining in the team's early streak. They face Arsenal, the other undefeated team in the Premier League, on Sunday at Stamford Bridge.
5. Benfica (5-1-0)
The Europa League runner up continues their dominant display in the Portuguese league under the same form that saw them crown themselves last season. Spearheading the Primeira League's most lethal offense, is new boy Talisca, who has made a flawless transition from Brazil to Portugal.
6. VALENCIA (4-2-0)
It's hard to imagine that a team that has been ranked no lower than third place this season has discretely gone undefeated. However, buried under the heavy attention towards Barcelona, Atletico, and Real Madrid, is Valencia. Los Che are currently two points behind Barcelona in the league table and look poised towards fighting a top four finish.
7. BAYERN MUNICH (4-2-0)
Despite still not running on all cylinders, the German giants continue to be the top standard in the Bundesliga. With the likes of Robert Lewandowski, Mehdi Benatia, Xabi Alonso and other quality players arriving to a squad with enough depth to spare, it might be a while before we see the Bavarians lose a match.
8. ATLETICO MADRID (4-2-0)
The reigning Spain champions have continued where they left off last season. Despite the loss of Diego Costa, the arrival of Mario Mandukic and Antoine Griezmann have given Los Colchoneros a more than adequate replacement for the Spain international. Having already claimed Real Madrid's scalp, Diego Simeone's men are once again set to disrupt La Liga's traditional two-team monarchy.
9. Borussia Mönchengladbach (3-3-0)
Not the Borussia you expected huh? Playing a fast pace and dynamic football from the get go, Die Borussen have latched themselves towards second place; two points away from Bayern Munich. Relying also on some solid defending, rivals have had a hard time against Möngledbach as their second best-ranked defense can atone.
10. PSG (3-5-0)
Despite their undefeated status, the French champions have had a difficult start to the season as they have struggled to find rhythm when playing playing on the road. Currently sitting in fourth position, the Parc des Princes' outfit will have to get their act together soon and catch up with leader's Olympique de Marseille.
11. ARSENAL (2-4-0)
It might come as a surprise considering their recent form, but the Gunners continue to be one of the Premier League's only two undefeated clubs left. Injuries have taken an early toll on the London club that has been forced to constantly make rotations, having to settle for a series of draws.
04/30/2016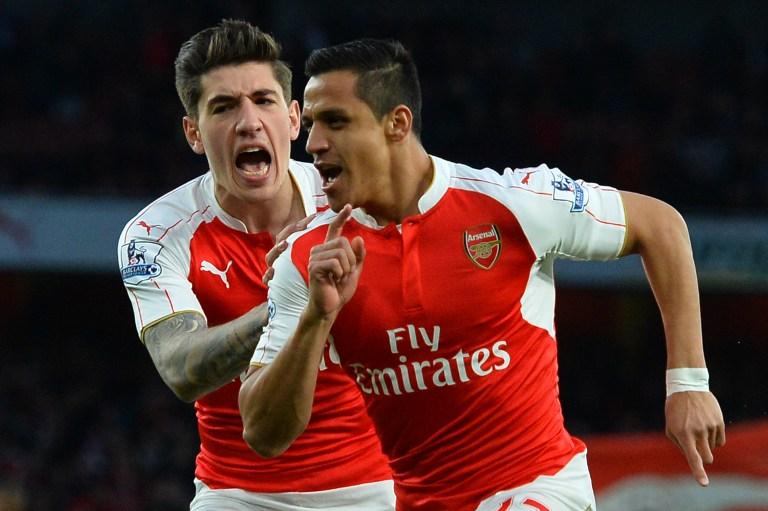 | | | | | | | |
| --- | --- | --- | --- | --- | --- | --- |
| | | | 6 | | | |
| | | | | | | |
| --- | --- | --- | --- | --- | --- | --- |
| | | | 3 | | | |
04/26/2016