Pep Guardiola won his first Bundesliga title on Tuesday as record-breaking Bayern Munich were confirmed German champions with seven games to spare, bettering predecessor Jupp Heynckes' record of six.
Guardiola Breaks Record with Bayern Munich's 24th Bundesliga Title
03/25/2014
Pep Guardiola won his first Bundesliga title on Tuesday as record-breaking Bayern Munich were confirmed German champions with seven games to spare, bettering predecessor Jupp Heynckes' record of six.
Having won 14 out of 19 titles in four years with Barcelona, Guardiola collects his third title in his nine months since taking charge of Bayern. But he pins the success firmly on his players.
"A coach is always only good because he's at a big club with great players," said Guardiola before the Hertha Berlin win. "I have won many titles, because I have had great players, they deserve the praise, they are unbelievable."
Guardiola's modesty hides the fact he molded the likes of Barcelona's Lionel Messi, Andres Iniesta and Xavi into footballing superstars and seems intent on doing the same at Bayern. The Bavarian giants sent records tumbling under Heynckes, but Guardiola has taken the European champions to a new level.
Guardiola has added a "new dimension" with his "positive fanaticism" to his work, according to chairman Karl-Heinz Rummenigge.
"He has a clear plan and I have never seen such diligence in any other coach," Rummenigge told German daily Die Welt. "He's made the team a tight-knit community, which is how it was under Jupp Heynckes. But Guardiola has changed a few things and is permanently looking to improve things."
There is no stone left un-turned in Guardiola's relentless pursuit of perfection. He was disgruntled in a press conference last December because his players had been subdued during the first 15 minutes of a training session.
They had trounced Werder Bremen 7-0 away just 48 hours before. But Guardiola's concerns proved justified as Bayern suffered their only defeat this season when they lost the following day at home to Manchester City.
Guardiola showed a ruthless streak when Mario Mandzukic was briefly dropped at the start of 2014 for poor performances in training. It was a bold decision to drop the team's top-scorer and the Croatia striker netted in all six league games before last Saturday's 2-0 win at Mainz 05.
While Bayern dropped only 11 league points least season, Guardiola's side have dropped just four so far.
Guardiola recently referred to the Bundesliga as "pizza and burgers" and likened the Champions League to a "nice restaurant". While the Spaniard drew criticism for his comments, Bayern's rivals have failed to serve up a decent challenge.
Guardiola tackled his first Bayern press conference last June in German and insisted he would neither poach any Barcelona players, nor make major changes. He soon did both as Spain's Under-21 captain Thiago Alcantara was signed from Barca and a new 4-1-4-1 system was introduced, briefly abandoning the 4-2-3-1 formation which won the treble.
Captain Philipp Lahm was switched from right-back, where he is one of the world's best, to the midfield. Guardiola got off to a losing start as Bayern were beaten 4-2 at Borussia Dortmund last July in the German Super Cup final, but have not looked back since.
He got one over old Spanish league rival Jose Mourinho in Prague when Chelsea were beaten on penalties in the UEFA Super Cup final. Bayern then picked off their Bundesliga rivals one by one.
Schalke were humbled 4-0 in Gelsenkirchen in September, while Dortmund they went down 3-0 at home in November. Bayer Leverkusen put up a fight when Bayern came away from the BayArena with a 1-1 draw in October.
Bayern claimed a record tenth consecutive Champions League victory when they beat CSKA Moscow away in December before lifting the Club World Cup in Morocco. The only defeat came in the final Champions League group stage when Bayern threw away a two-goal lead to lose 3-2 at home to Manchester City.
They still managed to finish as group winners. The closest Bayern have come to a Bundesliga defeat was at VfB Stuttgart in January.
They were 14 minutes away from losing before Claudio Pizarro headed them level, then Thiago hit a stunning 93rd-minute winner. Bayern's last league defeat -- at home to Leverkusen in October 21012 -- came with Heynckes in charge as the Bavarian giants currently enjoy a record 52-match unbeaten run.
04/30/2016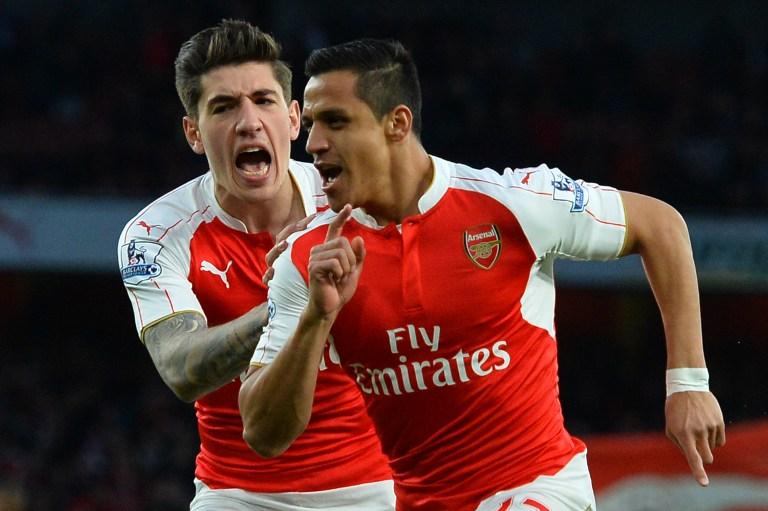 | | | | | | | |
| --- | --- | --- | --- | --- | --- | --- |
| | | | 6 | | | |
| | | | | | | |
| --- | --- | --- | --- | --- | --- | --- |
| | | | 3 | | | |
04/26/2016