Michael Lewis looks at where it all went wrong for Sporting Kansas City in the 2014 MLS season.
Sporting Kansas City Fall 'Victim' to MLS Parity
10/31/2014
By: Michael Lewis (@SoccerWriter)
If you're a successful team in Major League Soccer, especially a highly successful side, there is a good chance you're going to pay for your success.
If you're MLS Cup champion, it's probably sooner than later. Like it or not, it is part of the league's cycle.
Sporting Kansas City, the 2013 MLS Cup champion, is a perfect example.
The team's rise to power certainly has been no fluke. Led by one of the most driven, if not the most driven head coach in the league, Peter Vermes, SKC devised a specific system and a style of play -- high pressure from the opening kickoff to the final whistle -- that kept his team a step or two ahead of its opponents the past few seasons.
Their rewards for winning included adulation from their fans, praise from the media and their opponents, a memorable victory lap around Sporting Park last Dec. 6 and of course, the MLS Cup trophy.
Of course, what looks like a blessing one year could turn into somewhat of a curse the next.
SKC already lost goalkeeper supreme Jimmy Nielsen to retirement, midfielder Uri Rosell, who returned to play in Europe and defender Chance Myers to a season-ending injury. The champs also lost two vital players to the World Cup and international duty appearances -- captain center back Matt Besler and midfielder Graham Zusi.
Zusi, for one, had been put through the gauntlet for the past 10 months.
"It's been a long year, a very long year," he said in a somber KC locker room at Red Bull Arena Thursday night. "Starting with January camp, which is pretty much a preseason in itself, having MLS preseason as well, and then pre-World Cup camp as well – that's three preseasons right there so it's been a long one, but I wish it could go longer."
Not this year.
For the second time in eight days, SKC found itself in the rather unusual position of being eliminated from a competition. On Thursday, Oct. 23, the MLS side tasted defeat against Saprissa, losing 2-0, in San Jose, Costa Rica and thereby exiting the CONCACAF Champions League at the group stage.
On Thursday, Oct. 30, Bradley Wright-Phillips, the MLS goal-scoring champion, struck for his second goal -- in the 90th minute -- as the New York Red Bulls showed SKC the MLS playoffs exit door with a 2-1 loss at Red Bull Arena.
"For 80 minutes we executed our game plan very well," Besler said. "We ran out of steam in the last 10 minutes. ... Obviously it's disappointing to get knocked out like this. we have high expectations as a team, so any time we don't win championships we're disappointed."
As was Vermes, who demands nothing but excellence and top effort from his troops, but also realizes his players are only human as well.
He could not have his team deploy its usual high-pressure tactics against the Red Bulls.
"We play pretty high all the time against teams, but when you take all the different problems we have and so many injuries and all the other things that it only made sense in how many games we played over a short period of time here leading up to this game and how many guys we had injured it just made sense to play a little differently," Vermes said. "I think it would serve us well and I thought for a majority of the game it did."
Many factors caught up with SKC.
"There's no doubt they become a lot over the course of the season," Vermes said of the crowded schedule. "You throw in the World Cup. We lost guys at that point. You take international duty for a bunch of other players and you talk about the guys that we've lost. We have five guys who are out on season-ending injuries and one that has a career-ending injury. When you lose that many guys within your group, how do you replace them in this league?
You can't because of the salary cap. So a lot of the guys have had to spend consistent playing time, which they normally would not have gotten. They would have been more of a give a break to the starting guy for a couple of games and the other other guys are back in. Unfortunately, those guys have had to deal with a lot of games and they're just not ready for it. I can't complain. A lot of them did a lot better than I thought they would."
Now, no one is going to turn down a chance to grab the brass ring or an MLS Cup ring. But in the parity-driven world of MLS, which includes salary caps and a myriad of equalizing rules for all teams so no one falls far behind (with clubs such as defunct Chivas USA as the glaring and embarrassing exception), there is a good chance you're going to have to pay sooner or later. Once in a while you're going to get a team such as D.C. United, Houston Dynamo or the LA Galaxy, sides that overcome the odds stacked against them and actually win back-to-back titles.
But hence, there are no true dynasties in MLS, at least not yet.
SKC's conquerors, the Red Bulls, get to play another two games in the postseason, hosting D.C. United in the first leg of their Eastern Conference semifinal series on Sunday with the second leg set at RFK Stadium on Saturday, Nov. 8.
Last year the Red Bulls secured the Supporters Shield honors and earned a CCL berth. Instead of burning the candle at both ends for his starters, head coach Mike Petke used reserve players in the continental competition. Not surprisingly, the Red Bulls also were eliminated from contention for a quarterfinal berth -- Petke was severely criticized for it in many circles -- but his starters were able to recover from their injuries.
Today, the Red Bulls are still alive and kicking in the MLS playoffs.
United was at the other end of the MLS parity spectrum in 2013, finishing dead last out of 19 teams. D.C. managed to win the Lamar Hunt/U.S. Open Cup, yet finished with a 3-24-7 mark. The team's reward was the very first selection in the MLS SuperDraft and some allocation money. After a such sorry season in which most coaches would be jettisoned, Ben Olsen was given a stay of execution and stayed and rebuilt D.C. into the conference's best.
United's renaissance has become of what seems to be an annual MLS occurrence, a worst-to-first scenario (see the Kansas City Wizards and New York/New Jersey MetroStars in 2000, the Red Bulls in 2010 the Portland Timbers in 2012, among other high risers from one season to the next).
If United manages to reach the MLS Cup and win the big prize, the team will get another chance at CONCACAF glory and face the grind of another long season. Add the fact that United already has qualified for the CCL quarterfinals, which will commence Feb. 24. So, D.C. could be burning that proverbial candle at both ends next season.
As for Sporting Kansas City, do not fret. Peter Vermes' team will be back -- much sooner than later, probably as soon as next year.
"Parity or not, Vermes has a viable system in place and with a winter to rest and lick its wounds, mental and physically, Sporting is expected to be back kicking butt in 2015 and beyond."
Will United, Seattle Sounders, the Galaxy or whoever wins MLS Cup fall victim to MLS parity next season? I would not be surprised, but only time will tell.
04/30/2016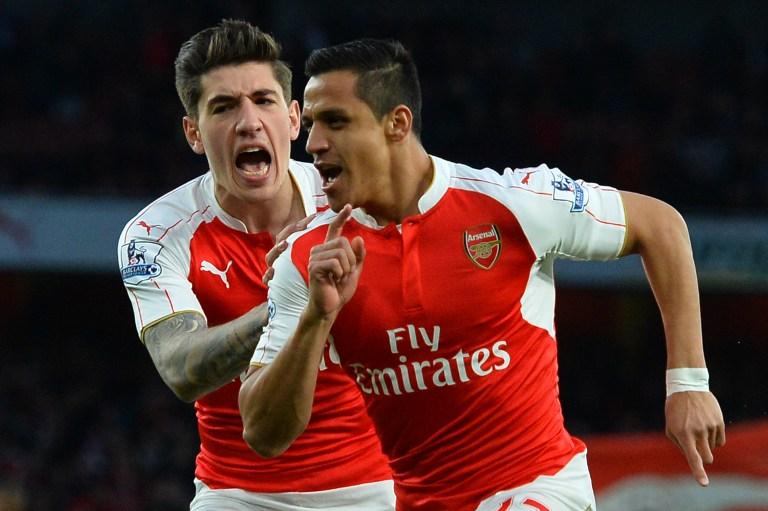 | | | | | | | |
| --- | --- | --- | --- | --- | --- | --- |
| | | | 6 | | | |
| | | | | | | |
| --- | --- | --- | --- | --- | --- | --- |
| | | | 3 | | | |
04/26/2016