The regular season of the Apertura 2014 tournament is drawing to an end; only two more matches remain. There are already four teams who have secured playoff tickets and another four spots are up for grabs to the 10 teams who are still mathematically alive.
Liga MX X-Rays: Week 15 
11/03/2014
By Jonny Rico (@Jonny _Soccerly)
The regular season of the Apertura 2014 tournament is drawing to an end; only two more matches remain. There are already four teams who have secured playoff tickets, while another four spots are up for grabs for the 10 teams that are still mathematically alive.
1 - DESPITE BEING TOP OF THE LEAGUE, CLUB AMERICA CAN'T WIN THE BIG GAMES (30 POINTS)
Club America has cruised all season long at the top of the league, but they haven't been able to get the win against their biggest rivals. Pumas UNAM, Cruz Azul, and Chivas de Guadalajara all are struggling in the league while America has dominated, yet the Aguilas fell 1-0 at home to Pumas, 4-0 away to Cruz Azul and ended in a disappointing 0-0 draw at home to Chivas.
2 - TOLUCA WANT TO JOIN THE "BIG BOYS" (28 POINTS)
Mexico has a well established "Big Four" with Club America, Chivas, Cruz Azul and Pumas based on success and popularity. Toluca desperately wants to join that elite group. They are the 3rd most successful team in Mexican league history with 10 championships; behind only America and Chivas who both have 11. A strong finish in the Apertura 2014 will have them as one of the candidates for the title which will bring them level at the top.
3 - WITHOUT IMPRESSING, TIGRES HAVE CLIMBED THE LEAGUE TABLE (27 POINTS)
Very much under the radar, Tigres have climbed up the league table all the way to third place thanks to their undefeated run in the last eight matches. Four of those matches were low-key 1-0 wins. Tigres are starting to be the team that can give headaches in the playoffs.
4 - SIGNS OF WEAKNESS IN ATLAS (27 POINTS)
As the season comes to an end, Atlas has begun to show signs of weakness. A 4-0 loss away at Leon on Saturday, and an inconsistent last couple of weeks, have done little to boost the team's chances of a deep run in the upcoming playoffs.
5- SHOCK DEFEAT NOT GOOD FOR MONTERREY'S TITLE CREDENTIALS (24 POINTS)
At one point in the season Monterrey seemed like the only team strong enough to battle America, but they have been losing credibility in their title credentials. Especially when suffering a 2-1 away loss to the worst team in the league (Morelia).
6 - CHIAPAS FC CONTINUE TO HOLD ON TO PLAYOFF HOPES (22 POINTS)
Chiapas FC are not in yet, but they are heavy favorites to take one of the remaining four playoff tickets. They held desperate Cruz Azul to a 0-0 draw and maintained themselves in prime position for the liguilla.
7 - PACHUCA NEEDS TO WAKE UP SOON (22 POINTS)
Pachuca have maintained a good position in the standings all season long, but having to fight back to earn a 1-1 draw against a weaker opponent like Puebla can put their playoff ticket at risk.
8 - RETURNING CHAMPS LEON STILL ALIVE (21 POINTS)
In similar fashion to last season Leon is stating to pick up their form when it matters most. They are currently on a four game winning streak that has brought them inside of the playoff positions for the first time in the Apertura 2014 season. They are an exciting team that goes all out for the win week in and week out as their 7-0-8 record shows.
9 - CRUZ AZUL running out of time (20 POINTS)
With teams like Leon, Tigres, and Chiapas starting to pick up their form for the late stages of the tournament, Cruz Azul is beginning to be edged out of the playoff positions. Their match against Chiapas FC (a team slightly above them) was an important one to win in order to strengthen their possibilities of advancing but they threw it away with a 0-0 away draw.
10 - SANTOS continue win-less streak (19 POINTS)
Santos picked up a huge confidence boost with a ticket to the Copa MX final, but in league play they are still win-less in their last 7 matches. The Guerreros have shown signs of improvement and are still in the running after a 1-1 draw at Leones Negros.
11 - SANVEZZO CAN ONLY DO SO MUCH FOR QUERETARO (18 POINTS)
The Brazilian superstar at Queretaro is definitely not Ronaldinho -- it's Camilo Sanvezzo, who leads the league in scoring with 10 goals. But the former MLS Golden-Boot winner can only do so much for his team; his goals are a league best but the team still has to do more in order to achieve a top eight finish. This week, the Gallos Blancos lost 1-0 away at Tigres.
12 - PUMAS STILL SUFFERING AT HOME (18 POINTS)
Pumas UNAM once again play out a draw at home (1-1 vs Veracruz). They are the only team win-less at home since new manager Guillermo Vazquez Jr. took over in week 7.
13 - XOLOs praying for a miracle (17 POINTS)
Tijuana Xolos suffered a 0-1 loss at home to Toluca and drastically reduced their chances of reaching the liguilla. The dogs must win their remaining two games (visit to Atlas and Leon at home), and need at least 5 of the 7 teams above them in the table to drop points.
14 - VERACRUZ's RED SHARKs SWIMMING for SURVIVAL (15 POINTS)
Veracruz are the last team technically still alive for a playoff spot. But making the liguilla is the last thing on their minds as they are concentrated on picking up points for their relegation battle. Their 0-0 draw at Pumas' CU stadium will help them stay above the drop zone.
15 - PUEBLA STILL HANGING TOUGH IN RELEGATION ZONE (14 POINTS)
Another draw means another point for Puebla who are fighting desperately against Chivas, Veracruz, and Leones Negros in the relegation battle.
16 - LEONES NEGROS MAKING THE RELEGATION BATTLE INTERESTING (13 POINTS)
Liga MX newbies Leones Negros are picking up draws that mean a lot more to their percentage, making the relegation battle heat up.
17 - CHIVAS CAN'T GET ANY MOMENTUM (12 POINTS)
Chivas are win-less in their last seven matches and the reality of relegation sinks in week after week. The 0-0 draw at Estadio Azteca against America was another disappointment for fans who have yet to see a win since Chepo de la Torre took over the squad.
18 - MORELIA SURPRISES EVERYONE WITH A WIN (10 POINTS)
Morelia got only their second win of the season against Monterrey (2-1). This was also their first home win of the tournament for the worst team in the league.
04/30/2016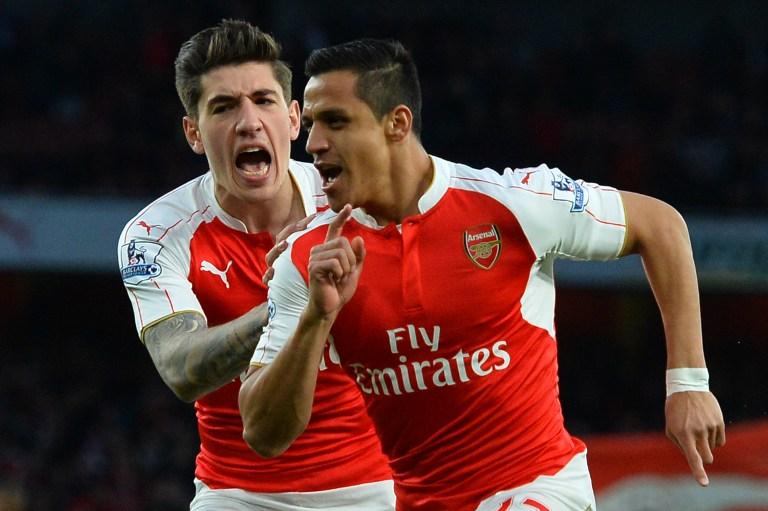 | | | | | | | |
| --- | --- | --- | --- | --- | --- | --- |
| | | | 6 | | | |
| | | | | | | |
| --- | --- | --- | --- | --- | --- | --- |
| | | | 3 | | | |
04/26/2016