Michael Lewis takes a look at the top stories in American soccer for 2014, including an unexpected US showing at the World Cup, the women's league, and how we said good-bye to an MLS and US Soccer legend in Landon Donovan.
So, what were the top USA soccer stories for 2014? 
12/12/2014
So, what were the top USA soccer stories for 2014?
Let's take a look:
1. The long goodbye
It seemed that every time we turned around we were saying goodbye to Landon Donovan. First, it was before the World Cup, when United States coach Jurgen Klinsmann cut the 32-year-old midfielder-forward from the team. Then it was from the national team itself in an emotional farewell in a 1-1 international friendly tie with Ecuador in East Hartford, Conn. on Oct. 11. And the third time was the charm, a Hollywood ending, if you will, a 2-1 LA Galaxy triumph over the New England Revolution in MLS Cup on in Carson, Calif. Dec. 7. Donovan, who earned his record sixth MLS championship, left the game leading in four vital offensive categories domestically and internationally -- goals (144) and assists in MLS (136) and goals (57) and assists (59) for the national side. Any future player will be hard-pressed to match those numbers. USA soccer supporters can only hope there is someone with his skill set, vision and overall ability playing somewhere on a youth soccer field.
2. Fantasy futbol, reality futbol
To the general public, the final results looked great: the USA got out of the Group of Death, avenged several international defeats and elimination at the hands and feet of Ghana and reached the Round of 16 of the World Cup. But the reality was that after the Americans' opening two games in Brazil, they struggled against big-time sides from Europe -- eventual champion Germany in the Group G finale and then against Belgium in the second round. If it wasn't for goalkeeper Tim Howard's magnificent performance in that game, it never would have gone into extra time. It was a stark reminder of how far the USA still must go to match the top sides of the world.
3. Galaxy rules MLS universe
For the third time in four years, the Galaxy took the final victory lap with the Philip F. Anschutz trophy, which is giving to the MLS Cup champion. And the Galaxy accomplished the feat in dramatic fashion, dispatching the New England Revolution in extratime, 2-1, on the incomparable Robbie Keane's goal. Keane finished the season as the regular-season MVP and of the final as well. Galaxy coach Bruce Arena earned his 11th championship. That includes a record fifth MLS crown and five NCAA Division I titles at the University of Virginia since winning his first one in 1989. That's about a title every other year, a ridiculous pace, indeed.
4. Not a field day at all
Several women's leading players, who have filed a lawsuit against FIFA and the Canadian Soccer Association at the Ontario Human Rights Tribunal in Toronto. They feel there is a greater chance of injury on the artificial surface at next year's Women's World Cup in Canada. Some 50 players from a dozen countries have backed the suit. The list of players includes the USA striker tandem of Abby Wambach, the 2012 FIFA women's player of the year, and Alex Morgan and midfielder Heather O'Reilly, Germany goalkeeper Nadine Angerer, the 2013 FIFA women's top of the year, Brazil winger Fabiana da Silva Simões and Spain midfielder Verónica Boquete, Australia wingers Samantha Kerr and Caitlin Foord, Mexico striker Jackie Acevedo and midfielder-forward Teresa Noyola, among others. FIFA, meanwhile, claimed there was no gender discrimination and that the possibility of injury on the artificial surface was not greater.
5. Going out of business
Except for a short time when head coach Bob Bradley righted a sinking ship, Chivas USA was a train wreck -- on so many different levels. Under Mexican ownership, the team kicked off its MLS existence with hopes of attracting fans of Chivas of Mexico and other Mexican supporters. It never materialized and the team quickly became a second banana to the Galaxy at the then Home Depot Center (now StubHub Center). Life got worse when the team's former coaches Dan Calichman and Ted Chronopolous sued the club for discrimination because they claimed they were fired for not being of Latino or Mexican descent. In February, MLS announced it has purchased the from Jorge Vergara and Angelica Fuentes before shutting it down after this season. In its place for the 2017 season came Los Angeles FC, which has 22 owners, including NBA great Magic Johnson, U.S. women's legend Mia Hamm and her husband, Nomar Garciaparra.
6. Shown the door
You had to realize the U.S. women's national team was in trouble when they jettisoned their coach during the build-up to a Women's World Cup and not underachieving after it. That's what happened when Tom Sermanni was given his walking papers after the Americans recorded a 2-0 win over China earlier in the day on April 6. The news not only stunned the soccer public, but the former Australian national coach as well. He did not see it coming. Jill Ellis was named to replace Sermanni, who guided the USA to a 18-2-4 record , including a 5-2-1 mark this year. In fact, the Americans suffered back-to-back losses for the first time since 2001 during the Algarve Cup in Portugal, losing to Sweden, 1-0, on March 7, and then to Denmark, 5-3, three days later. The USA finished seventh in the competition. U.S. captain Christie Rampone talked about how much she likes Sermanni, but also understood why he was shown the door with qualifying for the 2015 Women's World Cup set for October. "It's unfortunate," she said. "It's the game of soccer and the philosophy obviously wasn't what U.S. Soccer wanted, heading in a different direction." Rampone later added: "His philosophy was very different. However, it's going to take time and I don't know if we have that much time."
7. Club vs. country, Garber vs. Klinsmann
The eternal debate of club vs. country reared its ugly head when in October MLS commissioner Don Garber took issue with U.S. coach Jurgen Klinsmann's comments that American players need to play at the highest level of the game in Europe. "It will be very difficult for them to keep the same level that they experienced at the places where they were," Klinsmann said. "This league is getting better and stronger every year, which we are all very proud about, and I want everyone to grow in this environment, but the reality also is that for both players, making that step means that you are not competitive environment that you were in before…It's just reality, just being honest." In a hastily called conference call, Garber called Klinsmann's remarks "incredibly damaging" and insisted that Klinsmann needs to share the "vision that has been established by the leaders in the sport," which includes MLS as a pillar in the growth and development of the game." Garber added: "For him to publicly state issues that he has with Major League Soccer in my view is not something that is going to allow him to effectively serve the role as not just coach but as technical director. I am in no way saying what Sunil [Gulati, U.S. Soccer president] should be doing with Jurgen as it relates with his employment. That is between Sunil and Jurgen. I think he's done a great job with the national team. I think he needs to think very, very hard about how he manages himself publicly and how he deals with his view as to how he should motivate players that are playing in our league." To be continued, that's for sure..
8. Turn of the third century
On a team that boasts the scoring punch of Abby Wambach, Alex Morgan and Sydney Leroux, among others, it's easy to get lost in the shuffle of things on the U.S. women's national side, especially on defense. But Christie Rampone has been a pillar in the back for years. When the USA defeated Mexico, 3-0, to book a spot in the 2015 Women's World Cup, the Sky Blue FC defender became only the second person alive on this planet to achieve 300 international appearances (now, 300 league matches are impressive in their own right), joining a club that includes only Kristine Lilly (352 games). It certainly told you much about the USA captain that she was more excited that the United States qualified for its seventh Women's World Cup than her accomplishment. "It's not about 300, but ... because we advance into the World Cup," she said.
9. Tying one on
Before the MLS season kicked off, who in his or her right mind would have predicted that Bradley Wright-Phillips would lead the New York Red Bulls or the league in scoring? Not many, if any. Then tying the MLS season scoring record of 27 was out of the question. But the English striker did just that, scoring on the final day of the season to lift the Red Bulls over Sporting Kansas City and its fourth place in the Eastern Conference. BWP tied the record held by Tampa Bay's Roy Lassiter (1996) and San Jose's Chris Wondolowski (2012). Despite his scoring feats, Wright-Phillips was not among the final three MVP candidates, which caused a furor among Red Bulls supporters. He was awarded a Designated Player contract for 2015, but he will have to accomplish his scoring feats without the fabulous Thierry Henry, who said he was not returning to the Red Bulls after this season.
10. Winning the league
Eclipsed by the success and controversy of the U.S. women's team, FC Kansas City captured the second National Women's Soccer League championship, besting the host Seattle Reign FC in Tukwila, Wash. on Aug. 31, 2-1. Amy Rodriguez scored both goals for the winners as U.S. Soccer women's athlete of the year Lauren Holiday set up both scores against national team teammate and goalkeeper Hope Solo. As it turned out, KC keeper Nicole Barnhart stole the spotlight from Solo in that encounter, making two key saves -- on Naho Kawasumi midway through the first half and on NWSL Golden Boot and MVP Kim Little in the 53rd minute. Solo endured a difficult 2014 with personal problems. In June she was charged with two counts of fourth-degree domestic violence assault for allegedly hitting her half-sister and nephew. On Thursday, Solo's lawyer asked for the charge to be dismissed in Kirkland Municipal Court in Washington. Solo played for the national team after she was charged as several members of the media and fans have been clamoring for her to be suspended -- not unlike what has happened to NFL players due to domestic violence incidents -- until a possible trial.
On another note, it has been a pleasure writing for Soccerly.com the past few months, especially a column since September. If you want to follow yours truly, please visit www.BigAppleSoccer.com and its sister websites. Have a happy holidays and a happy New Year as well!
04/30/2016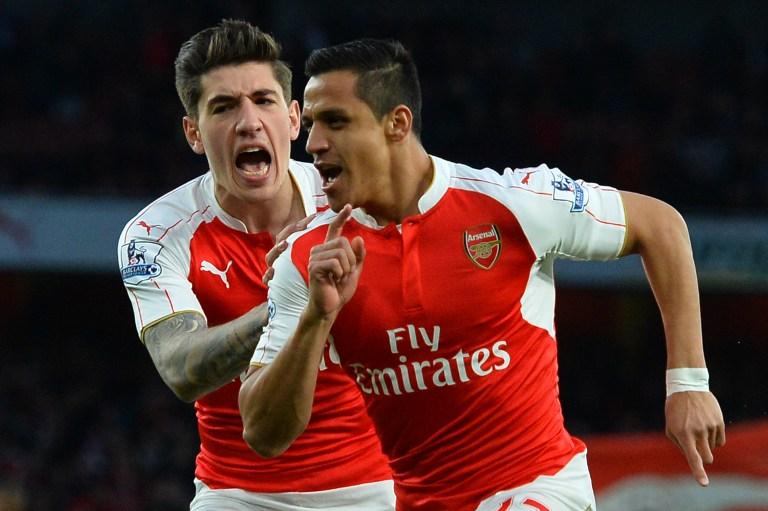 | | | | | | | |
| --- | --- | --- | --- | --- | --- | --- |
| | | | 6 | | | |
| | | | | | | |
| --- | --- | --- | --- | --- | --- | --- |
| | | | 3 | | | |
04/26/2016