LONDON – Is it any wonder Cristiano Ronaldo and Lionel Messi still set the goal-standard in football? Ascending to their level, or getting anywhere near their scoring rate, seems beyond most contemporaries.
Struggling strikers eclipsed by Messi, Ronaldo 
12/15/2014
LONDON – Is it any wonder Cristiano Ronaldo and Lionel Messi still set the goal-standard in football? Ascending to their level, or getting anywhere near their scoring rate, seems beyond most contemporaries.
Particularly for the strikers whose hype and profiles eclipse their prowess in front of goal. And especially for some of the big names who switched clubs in the summer transfer window in search for a career reboot or club upgrade.
Luis Suarez stepped up from Liverpool to Barcelona but is yet to raise his own game.
Arriving as English football's player of the season and the Premier League's top scorer, goals should have been a given for Suarez, even with his unpredictable temperament. While Barca has been untroubled by Suarez's conduct, goalkeepers have been similarly untroubled by his once-lethal shots.
Since making his debut in October, after completing a four-month ban for biting at the World Cup, the 27-year-old Suarez has gone seven league games without scoring, netting only twice in the Champions League.
Although Suarez has five assists in 10 games and his reputation doubtless unsettles defenders, which helps Messi and Neymar, the 81 million-euro (then $110 million) outlay was intended to guarantee goals.
"I came here to score goals, not only to makes passes for others to score," Suarez said last week in an interview with Barcelona newspaper Sport. "If I came here it's because I have scored many goals in my career and, above all, in Liverpool."
Liverpool does not need reminding of what it has lost.
The transfer windfall was quickly reinvested. Just not on a proven world-class scorer.
The 32-year-old Rickie Lambert was brought in from Southampton to the club he supported as a boy after rising through England's four professional leagues. Although mostly deployed from the bench, the 4 million-pound ($6 million) Englishman has not been the impact substitute desired as reflected by his record of two goals in 18 games.
A gamble signing did not work either. Mario Balotelli has only replaced Suarez in one regard: as the Liverpool player bringing unwelcome attention from the Football Association's disciplinary department. Manager Brendan Rodgers wrongly thought he could tame the tempestuous Italian, who is facing an FA sanction for a racially offensive social media posting.
While Suarez contributed 31 goals in all competitions last season as Liverpool finished second, Balotelli resembles the Barca Suarez with no league goals for a team enduring its worst start in 50 years.
AC Milan did well to persuade Liverpool in August to hand over 16 million pounds (then $27 million) for the former Manchester City player whose ascent as a sports star owes more to his public persona and antics than performances.
However, Milan has not had much more luck revitalizing former Anfield favorite Fernando Torres.
Strikers shouldn't necessarily lose their finishing touch over the years, but the predatory instinct and pace can fade. Torres was one of the most prolific strikers in 2011 when Chelsea paid Liverpool 50 million pounds (then $80 million) for the Spaniard, and his decline has been alarming.
"He has struggled with injuries," Milan vice president Adriano Galliani told Italy's Sky television. "We need to be patient."
Chelsea had enough when it offloaded the Spaniard on an unusually long two-year loan to Milan after only 20 goals in 110 league appearances.
The other big loan move in the summer window is looking as much as a dud.
Manchester United committed to an outlay of around $25 million on Radamel Falcao's salary and fee for a season-long loan from Monaco, and yet the player is struggling to get on the pitch.
Managing only eight appearances, the injury bulletins have been lengthier than any dispatches of his on-field contributions. Just one goal, for the record.
Before a serious knee injury in January, the Colombian was scoring almost a goal every two games for Monaco.
Perhaps his greatest contribution at United has been creating a buzz by making the surprising deadline-day move. Persuading him to come to Old Trafford seemed to reassure United of its status among the football elite after a season on the slide under David Moyes.
On Sunday, in one of the biggest games of the year for United, he only made a late appearance from the bench in the 3-0 win over Liverpool despite being fit. Louis van Gaal preferred to start speedier 19-year-old academy graduate James Wilson.
When raw, young talents find it so hard to break into English teams, given the penchant for spending on more eye-catching foreigners, it was a bold move by Van Gaal.
But when the transfer window re-opens in January, it's likely teams will continue to throw cash at players who can produce goals in the second half of the season.
It does work sometimes. Arsenal and Chelsea are profiting from investments of around $50 million each on forwards last summer. Alexis Sanchez has 14 goals in four months for Arsenal and Diego Costa has two fewer for Chelsea.
Source:
Rob Harris, AP Sports Writer
04/30/2016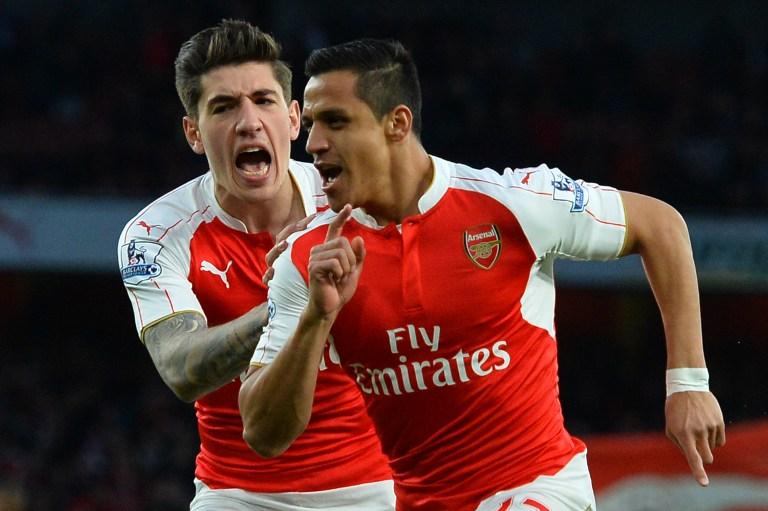 | | | | | | | |
| --- | --- | --- | --- | --- | --- | --- |
| | | | 6 | | | |
| | | | | | | |
| --- | --- | --- | --- | --- | --- | --- |
| | | | 3 | | | |
04/26/2016