Michael Lewis examines Thierry Henry's tenure in MLS with the New York Red Bulls and whether he was truly a success by creating a stir and raising the level of football in America.
Was Thierry Henry a "success" at New York Red Bulls? 
12/05/2014
Since he announced he wasn't going to return to the New York Red Bulls last Monday, much has been said about Thierry Henry's 4 1/2-year Major League Soccer career - the impact on the game in this country, the league, the Red Bulls; even his own personal career.
His impact can be parsed in many ways and it isn't as simple as putting it as a success or failure. So was Henry's tenure with MLS a success?
Well, yes and no.
I will tell you this: don't expect the Red Bulls to build a statue for him outside of Red Bull Arena as his former English team, Arsenal, did. It's not that Henry was a disappointment, though an MLS championship or two might have made a stronger case.
Saying that, here are some questions to consider about Henry:
Did he thrill the crowd with his magic, even as a senior citizen striker?
He certainly did, with some wonder goals -- remember that Olimpico goal (a goal scored directly off a corner kick against the Columbus Crew in 2012?) and pin-point passes that were turned into goals, most recently by Bradley Wright-Phillips, who not only finished the season as the league scoring champion, but also tying the MLS season record of 27 goals.
Did he raise the level of the Red Bulls?
He sure did. They were a better team with the 37-year-old former French international on the field. Had the Red Bulls scored another goal in the waning minutes of their 2-2 draw at the New England Revolution in the Eastern Conference finals last Saturday, New York and not the Revs would have been here today preparing to play the LA Galaxy at the StubHub Center in nearby Carson in MLS Cup Sunday.
But did he do enough to raise the level?
Well, no. Henry could be fabulous at times, but he was no miracle worker. As we all know, soccer is far from a one-man or one-woman show. And the Red Bulls could have been bulked up in other areas, such on defense. Since Henry wasn't the sporting director or coach, he cannot be held responsible for that.
He did raise the awareness of the team or of the game?
Well, he did -- to a point -- in the New York metropolitan area. But you have to wonder how well the Red Bulls pushed him and the club itself in front of the public. When Red Bull Arena opened in 2010, advertising about the team in many quarters all but ceased to exist. Several months later, Henry joined the team. But even with him in the starting lineup, the Red Bulls were hard pressed to sellout the 25,000-seat venue every game.
And the most important question: did the Red Bulls win any championships during his tenure as the LA Galaxy did (twice) with David Beckham?
Again: yes and no.
If MLS was a European league, Henry would have won a title -- the 2013 MLS regular-season crown as the Red Bulls earned the Supporters Shield. But this is America, where the playoffs are king -- and no one remembers what you accomplished during the long, regular season unless, of course, you take that final victory lap and spray champagne on yourself and your teammates in a victorious locker room.
There were many soccer observers, here, there and everywhere who would have loved to have seen an LA-NY and Landon Donovan-Thierry Henry confrontation in the MLS Cup. It has never been done, although the Galaxy has done its job reaching the championship game on eight occasions, while the Red Bulls/MetroStars have gotten to MLS' Promised Land but once -- on its 2008 Cinderella run.
Donovan announced that 2014 would be his final season on Aug. 7.
Henry? He kept his decision close to his vest because he didn't want it to be a distraction.
"I didn't want to put the focus on me when we're trying to make the playoffs," he said Tuesday.
"I still don't know about retirement but I knew, yeah, here, it was going to be the last," he said Tuesday. "But I didn't want to talk about it for the reasons I mentioned before. It is emotional, I won't see those guys anymore. I won't scream at those guys anymore. I'm sure they won't miss that. But like I said to you so many times, it was for the good of the team.
"When you see me getting upset, happy or whatever, it was for the good of the team. Because at the end of the day, you're here to win something, not to like each other. We all became friends, don't get me wrong. But when you're on the field, it's a thing that you need to do and you need to try to do whatever you can to do that."
While Henry might have been the soul of the Red Bulls in the past 4 1/2 years, his heart has always been in Arsenal. He enjoyed his greatest days as a player there, scoring 228 goals and having a statue erected outside of Emirates Stadium. Now, how many players can boast that, especially when they are living?
Henry said that he hasn't made up his mind whether he will continue playing.
He probably could have played another in MLS.
The gut feeling here is that he will play again -- for at least one game or even the next year.
I could see him returning to Arsenal, start a game and then be subbed to a standing ovation from the Emirates fans in what is soccer's version of a curtain call.
Or I can see him take it one step further -- returning to the Gunners when the winter transfer window opens in January and become a super sub for the English Premier League side.
And then retire as an Arsenal player.
Either scenario is not that far-fetched. There are other forces at work as well. Henry has a daughter who lives in London and he misses her.
So, a London return certainly is not out of the question.
"That's the wish, Christmas is arriving soon, so it's a wish," he said. It's not something that's going to happen like this, but it is a wish," Henry said. "Everybody knows how much I love the club, my feeling about it. But it's is a wish right now.
The Red Bulls wish that Henry would return for another season and help them secure that elusive MLS Cup championship, an accomplishment that would boost his legacy to the team and the league.
04/30/2016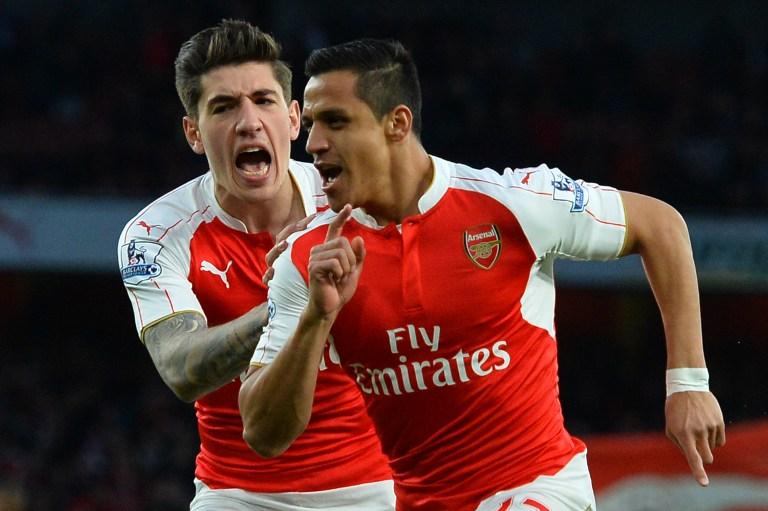 | | | | | | | |
| --- | --- | --- | --- | --- | --- | --- |
| | | | 6 | | | |
| | | | | | | |
| --- | --- | --- | --- | --- | --- | --- |
| | | | 3 | | | |
04/26/2016