A moving rendition of the French national anthem reverberated around London's Wembley Stadium on Tuesday as fans of England and France paid tribute to the victims of the Paris attacks.
Wembley unites to honour Paris victims
11/18/2015
A moving rendition of the French national anthem reverberated around London's Wembley Stadium on Tuesday as fans of England and France paid tribute to the victims of the Paris attacks.
In a crowd of 71,223 that included British Prime Minister David Cameron and Prince William, many stood to sing 'La Marseillaise' four days on from the attacks, which left 129 people dead and over 350 injured.
England won a subdued match 2-0 courtesy of goals from Dele Alli and captain Wayne Rooney, but the outcome of the contest was a mere anecdote on a night thick with poignancy.
"Emotionally, it was a very, very strong moment," France manager Didier Deschamps told his post-match press conference.
"We were all united in this moment of communion, which obviously lifts the spirits because you feel it in your heart. It's beautiful, it's moving, it's grandiose. It's very strong."
France midfielder Lassana Diarra, who lost a female cousin in the attacks, and team-mate Antoine Griezmann, whose sister escaped the massacre at the Bataclan concert hall, both came on in the second half.
Diarra, a former player with English sides Chelsea, Arsenal and Portsmouth, was granted a warm round of applause as he came on.
"He sent us a remarkable message," Deschamps said. "His presence with us was something very, very strong. That's why I let him play the last few minutes."
England manager Roy Hodgson said: "It was a very poignant occasion. It was everything I expected it to be."
There was a visible police presence outside the ground, while two armed counter-terror police officers were seen patrolling beside the pitch prior to kick-off.
The friendly between Germany and the Netherlands scheduled to take place in Hanover on Tuesday had earlier been cancelled, with German police citing a "serious" bomb threat, while Belgium's game with Spain was also called off.
Both managers said that they had been aware of events in Hanover, with Deschamps revealing that he had deliberately not informed his players.
- 'Tonight we are French' -Last Friday's attacks in Paris had started with three suicide bombers blowing themselves up outside the Stade de France while France played Germany in a friendly.
But supporters arriving at Tuesday's game were relaxed, with English and French fans mingling happily and posing for pictures in front of Wembley's giant arch, which was lit up in red, white and blue.
Breaking with convention, the Marseillaise was played after 'God Save the Queen' in order to create a stand-alone moment of solidarity, with the words to the anthem displayed on the stadium's big screens.
Many England fans had brought French flags to the stadium. One banner in the crowd, picking up a social media hashtag, read: "Pray for Paris."
Prior to the anthems, and a solemnly observed minute's silence, figures including Deschamps, Hodgson, Prince William, French Football Federation president Noel Le Graet and his English counterpart Greg Dyke laid floral tributes beside the pitch.
In a speech to his fellow dignitaries before the game, Dyke said: "Tonight is an opportunity for us, the English, to say to the people of Paris and to the people of France, 'We are with you, we support you -- tonight we are
Parisians, tonight we are French.
"'We share in your grief, we share in your shock, but also we share in your determination not to be beaten.'"
The teams emerged from the tunnel accompanied by mascots wearing both France and England kits and led by children carrying a black flag bearing the French motto 'Liberte, Egalite, Fraternite' (Freedom, Equality, Brotherhood).
Shortly before kick-off, the teams posed for a merged team photo, during which a standing ovation broke out around the ground.
Tottenham Hotspur's 19-year-old midfielder Alli, making his full debut, put England ahead with a 25-yard drive in the 39th minute and Rooney volleyed in his 51st international goal after the break.
Despite the Paris attacks, claimed by Islamic State, the FA said that only 100 tickets for the game had been returned. The final attendance was roughly 20,000 short of full capacity.
The communal singing of the Marseillaise followed a social media campaign taken up by British newspapers, many of which printed the words to the 220-year-old battle hymn on the morning of the match.
Source:
Tom WILLIAMS/ AFP
04/30/2016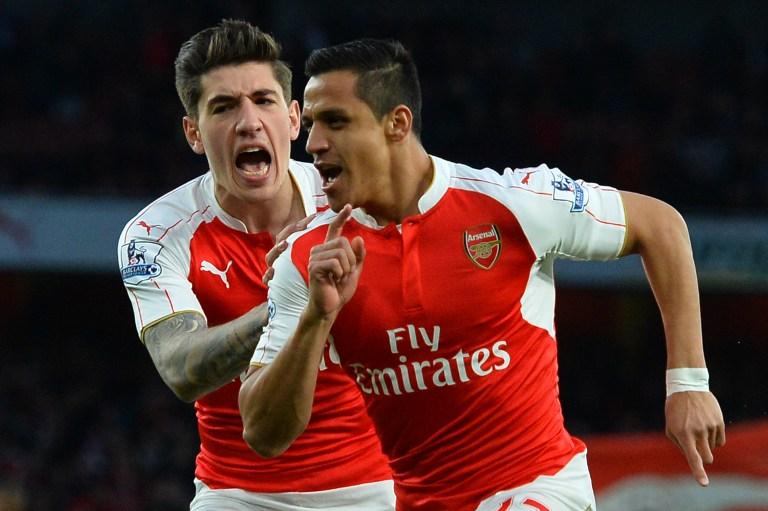 | | | | | | | |
| --- | --- | --- | --- | --- | --- | --- |
| | | | 6 | | | |
| | | | | | | |
| --- | --- | --- | --- | --- | --- | --- |
| | | | 3 | | | |
04/26/2016