MATCHES
Take a look at some of the most curious facts about El Clasico. From Lionel Messi's records to Alfredo di Stefano's suspicious arrival to Real Madrid and of course, who could ever forget Luis Figo's treachery after his controversial transfer from Barcelona to Real Madrid.
10 facts you may not know about El Clasico
10/23/2014
La Liga's El Clasico is one of the most important and watched football matches in the world. Apart from the UEFA Champions League final and the World Cup final, it is the most televised football match. There are many curious facts which have gone unnoticed, so Soccerly is going to present some of the most curious and fun facts about this highly competitive duel:
1) RIVALRY
With the first Clasico being held on May 13, 1902, both teams have met a total of 228 times -- Real Madrid has 90 wins in official matches (all competitions) to Barcelona's 87, and the two have drawn in 51 games. The Catalonia side takes the lead when it comes to all-time meetings, however: including friendly matches, Barcelona boasts 106 wins over Real Madrid's 94 in 258 games.
In La Liga, there have been 168 meetings with 70 wins for Real Madrid, 66 for Barcelona, and 32 draws.
2) MESSI wins the goalscoring round vs. cristiano ronaldo
If Messi scores on Saturday at the Santiago Bernabeu, he could break two outstanding records:
1) La Liga's all-time goal scorer: At 27 years old, Messi is only one goal away from Telmo Zarra's 251 all-time goal record in La Liga.
2) El Clasico record in La Liga: Messi can also become the all-time highest goal scorer in the Spanish league's Clasico rivalry. He is currently tied with Alfredo di Stefano at 14 goals and when it comes to matches against Real Madrid in all competitions, the Argentine is already the highest scoring player with 21 goals to his name over Di Stefano's 18.
Ronaldo, on the other hand, has only scored five goals against Barcelona in league play. In all competitions, his tally reaches 13 total with five coming during Cup play and three in the Spanish Super Cup. He does hold the record for most consecutive games with goals scored, however -- his 6 match streak, which included 7 goals, was registered from the 2011-12 Spanish Cup to the 2012-13 La Liga season.
3) The Di Stefano factor
The oldest rivalry in football began to grow back in the 1950's during one of the most controversial moments of El Clasico's history. The rivalry reached its highest peak during that era with Alfredo di Stefano's transfer from Millionarios to both Real Madrid and Barcelona, which was all part of a misunderstanding no thanks to the Colombian club where Di Stefano was playing at the time.
It was an unprecedented move when Di Stefano ended up signing for both clubs, but in the end, former Real Madrid president Santiago Bernabeu convinced him to choose his side over Barcelona. The rest is history.
4) STREAKS & STATS
- Most appearances among active players: 40 - Xavi Hernandez (Barcelona).
- Longest undefeated run in La Liga's modern era: Barcelona with 7 matches (6 wins) from Dec 13 2008- Dec 10 2011.
- Biggest win in league play: Real Madrid 8-2 on Feb 3, 1935.
- Biggest recent win: Barcelona 5-0 Real Madrid on Nov 29, 2010.
- La Liga scoring tally: Real Madrid with 274 goals to Barcelona's 265.
- Average goals scored in a league Clasico: 1.58
- Most common result for a league Clasico at the Santiago Bernabeu: 2-1
Last 5 league results:
- March 23, 2014: Real Madrid 3-4 Barcelona
- October 26, 2013: Barcelona 2-1 Real Madrid
- March 02, 2013: Real Madrid 2-1 Barcelona
- October 07, 2012: Barcelona 2-2 Real Madrid
- April 21, 2012: Barcelona 1-2 Real Madrid
5) Double Agents
A total of 21 players have donned kits for both teams in El Clasico matches, including players like Samuel Eto'o, Michael Laudrup, Luis Enrique (Barcelona's current manager), Bernd Schuster, Ronaldo Luís Nazário (also known as Brazilian Ronaldo), and most notoriously, Luis Figo.
6) Luis Figo and the hog's head
Portuguese winger Luis Figo suffered a hideous incident after completing his transfer - another unprecedented event at the time - from Barcelona to Real Madrid for a record 56 million Euro, which subsequently turned him into public enemy no. 1 in the streets of Barcelona; specially at the Camp Nou. In his first appearance for Real Madrid on rival grounds, the crowd jeered him and threw a hog's head on the pitch as they shouted "mercenary!"and other insults when he approached the stands. To this day, Figo is known as the most famous 'traitor' to Barcelona.
7) Laudrup's luck
Known as one of the most talented players to have disputed El Clasico for both sides, Michael Laudrup became the only player to have won the competition for both clubs with the same end result (5-0) for two consecutive years. The first victory came in 1993 for Barca before he matched the same feat against the Catalan club wearing Los Blancos' jersey in 1994. Laudrup played a vital role in both matches. (HOW?)
8) The 'Pasillo'
Another interesting El Clasico tradition is the 'pasillo' or guard of honor, where fans of the opposite team applaud their rivals coming out of the tunnel if the title has already been decided. It's been seven years since the last pasillo -- during the 2007-2008 season, Barcelona fans applauded Fabio Capello's Real Madrid as the players took the field in their eventual 4-1 victory over Barca. It's only happened three times in El Clasico history - twice for Real Madrid and once for Barcelona.
9) Neymar vs. Bale: the new rivalry
Apart from the high price Real Madrid and Barcelona payed for these two super stars, the performance of both has been outstanding since their arrival in Spain. Bale became instrumental his first year for Real Madrid's double-trophy-winning season by scoring goals in both Copa del Rey and Champions League finals.
As for Neymar, the Brazilian forward didn't have the best season last year but he is having a fantastic start to this campiagn as the highest goal scoring player at Barcelona with nine La Liga goals, leading the competition with his team. And with Bale not featuring in Saturday's clash, it gives Neymar a chance to take the upper hand in this duel.
10) Popularity
Only second to the Champions League final, last March's La Liga match at the Santiago Bernabeu attracted over 400 million viewers across the world. Barcelona took the victory in a seven-goal thriller which featured a Messi hat-trick.
With much at stake for Messi to take his feats to the next level, Ronaldo's impressive league goal tally (15 in the first 8 games), and new blood (Luis Suarez, anyone?) that will test their skills on the sport's biggest stage, this Saturday's Clasico has the potential to be one of the best in history.
04/30/2016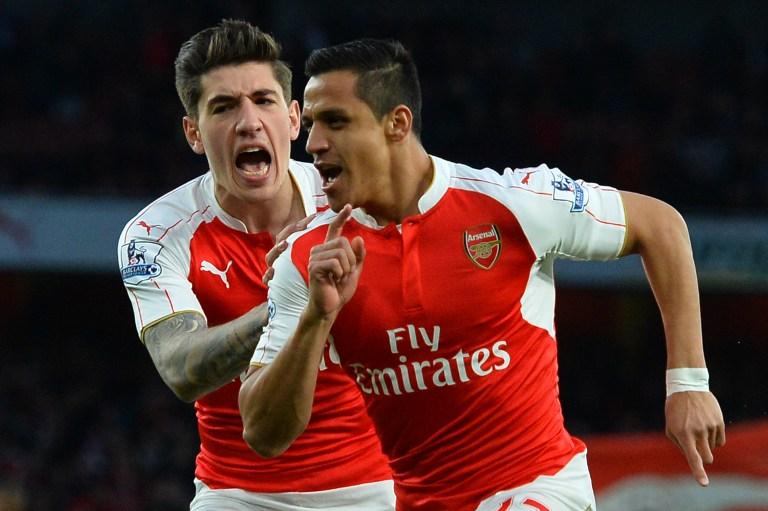 | | | | | | | |
| --- | --- | --- | --- | --- | --- | --- |
| | | | 6 | | | |
| | | | | | | |
| --- | --- | --- | --- | --- | --- | --- |
| | | | 3 | | | |
04/26/2016