the new pachuca
The Upward Trajectory of Pachuca
02/18/2013
The upward trajectory of a sports franchise normally comes from a collection of well-matched forces. When that trajectory is derailed, it becomes nearly impossible to recreate in any reasonable amount of time. Finding lost positive momentum can often be more challenging than getting it started in the first place.
Last spring, the Tuzos of Pachuca were in the midst of something special. Their roster very much reflected their restocked youth ranks. The young, talented crop of players that came through their system was starting to infiltrate the starting lineup. Pachuca was playing attractive football with an expectation that things would only get better. Finding their way in to postseason play was a great start. They were knocked out on a 2-3 aggregate by a well-rounded Club América squad in the first round. It was a solid showing and one filled with promise.
Hence, the subsequent firing of Efraín Flores came as a surprise. What more was expected out of this team? They were young and improving. The immediate hiring of Hugo Sánchez made their expectations clear. Grupo Pachuca expected results now and were willing to pay for it. They certainly paid for it, both financially and in the eventual results.
In the Apertura season, under the guidance of Sánchez, Pachuca finished in 13th position with a negative seven goal differential. The slow, steady rise was thoroughly knocked off course. Sánchez brought in big names like Nery Castillo, and pushed some of that talented youth to the bench. The team went through the season largely in disarray. Castillo never materialized into an effective contributor. Hugo Sánchez failed to get this collection of talent to play in any organized fashion, albeit without the benefit of time. "Hugol" was let go by Pachuca after one short season to the objection of very few. Castillo and Mauro Cejas were shipped off and another overhaul was in the works.

This newest incarnation of Pachuca has found a greater deal of success. After seven weeks, the Tuzos sit in fifth place in the table. They now have three straight wins over tough opponents (Toluca, Santos, and Cruz Azul). They've only allowed six goals thus far and half of those came through penalty kicks.
When a team is able to make a significant turnaround, it's reasonable to first look to the manager. This is Gabriel Caballero's first turn at being the head man. It's quite the start. Caballero has his team playing disciplined and entertaining football.
The standout on Caballero's roster continues to be Héctor Herrera. The Olympic gold medalist is on his way out of Pachuca at the moment having committed to Porto and will move in the summer transfer window. However, Herrera is not playing with one foot out the door. He is clearly trying to prove his value and leave a lasting impression in Pachuca and in Mexico as a whole. Thus far, it is mission accomplished. Herrera has been one of the absolute standouts in the early part of the Liga MX season. It wouldn't take a great deal of time for a novice to Mexican soccer to pick him out as a step above the other players on the field. With all of the hype that surrounds Herrera (rumored connections to Manchester United and the 'Mexican Ribery' label), it's amazing that he could still outplay those expectations. Herrera seems to be outplaying the lofty projections for what he can become as a player.

I would be remiss to not mention the outstanding play of Rodolfo Cota. It's easy to overlook solid goalkeepers in Mexico because of the wealth of talent at the position. There are just so many quality Mexican keepers that players like Cota get lost in the mix, however his play has been exemplary. Pachuca hasn't been involved in any lopsided matches and Cota's growing collection of critical saves is a big reason why many of these close games went Pachuca's way.
Pachuca also owes a heart-felt thank you note to the powers that be at Santos Laguna. The odd player swap this winter with the Torreón-based club has had a dramatic impact on the Tuzos. Nery Castillo and Mauro Cejas were replaced by Daniel Ludueña and Christian Suárez. This had the appearance of an upgrade for Pachuca on paper. The actual play has borne this out. Both Ludueña and Suárez continue to be dangerous going forward and threats from anywhere on the field. They're not scoring a ton of goals, but they haven't needed to.
This past weekend, Jesus Corona and bad luck conspired to keep the Pachuca score line low having accumulated approximately 8,000 (more or less) quality scoring chances. Two of Pachuca's newest acquisitions (Suárez and Angel Reyna) netted goals that would carry the Tuzos to victory, but it wasn't always smooth sailing defensively for Pachuca as they gave Cruz Azul many great chances as well. In the end, Pachuca did more than enough to get another well-deserved victory.
The future is bright for Pachuca. Tuzos should qualify for the Liguilla this season, and I pity any team that needs to play in the Estadio Hidalgo in a must-win playoff situation. Looking at the horizon for Pachuca should only provide further excitement for the fan base. The loss of Herrera will undoubtedly hurt, but the strong youth development and loose purse strings of ownership should be able to keep this team moving with forward without too many hiccups.
The course of this Pachuca squad was bumped severely off track last season. Now, with the smart incorporation of young, home-grown talent and experienced veteran acquisitions Pachuca is clearly heading in the right direction. The heights that this team could reach have few limits (as long as they stay the course).
04/30/2016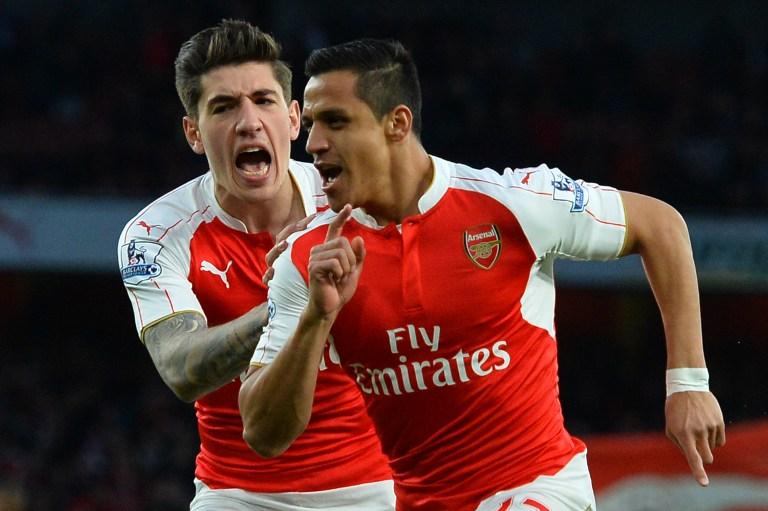 | | | | | | | |
| --- | --- | --- | --- | --- | --- | --- |
| | | | 6 | | | |
| | | | | | | |
| --- | --- | --- | --- | --- | --- | --- |
| | | | 3 | | | |
04/26/2016